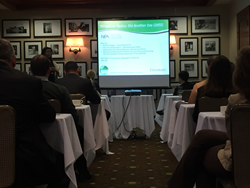 Organizations should view their intellectual property and privacy information as a currency in 2015
(PRWEB) November 09, 2015
In honor of Cybersecurity Awareness Month, a consortium of public and private sector organizations came together to hold a cyber security forum for Chicago's financial sector called the "CyberBusiness Roundtable from Capitol Hill to Chicago" on October 28, 2015 at the Willis Tower.
The consortium involved were Covenant Security Solutions, Inc., WallScott Solutions, Federal Bureau of Investigations (FBI) and the Institute for Critical Infrastructure Technology (ICIT).
During this event, executives and senior technology leaders came together to discuss the threats affecting the financial community and their legislative impacts. A key threat, noted by the FBI, for financial businesses continues to be BEC (Business Email Compromise) scams. These scams involve sending targeted emails into an organization to obtain sensitive company information or financial gain, i.e. wire funds to a fraudulent account. The forum also discussed the legislative climate and the recent approval of the Cyber Information Sharing Act (CISA). Additionally, they focused on the lessons learned from the damaging hack the Office of Personnel Management (OPM) announced in May 2015. Sr. Fellow, Parham Eftekhari, shared key points for organizations to learn from OPM's hack; one major point involved how organizations must increase focus on cybersecurity training and awareness. Another issue he touched upon was the legacy problem of technology. Mr Eftekhari noted that the pace of cyber threats call for organizations to upgrade and reinvest in technologies such as behavioral based analytic tools.
The final presentation looked at Corporate Cyber Espionage. Organizations should focus on understanding how information is governed and protected throughout their company. Mrs. Danyetta Magana, President of Covenant Security Solutions, noted the present damage of cyber espionage costs the "US economy $5 trillion USD per year" based on an Epoch Times study. "Organizations should view their intellectual property and privacy information as a currency in 2015." Everything from patented materials, copyrighted material, employee records, it is all part of the information being targeted heavily in breaches. Mrs. Magana concluded the presentation by reviewing the recently approved National Futures Association Information Security Program compliance rule. She also provided some key points on how organizations can utilize the National Institute of Standards (NIST) Risk Management Framework to adhere to cyber policy and lower their cyber risks.
The goal of the CyberBusiness Roundtable is to share the latest in cyber threats and ways to protect your company. The Roundtable will host another forum in March 2016. If you are interested in staying connected we have a LinkedIn forum here: CyberBusiness Roundtable
We welcome you to join, learn and stay abreast of future events.