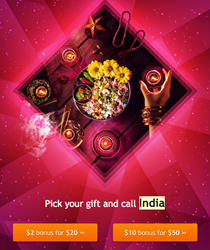 Good Service for the price. It is worth using and definitely the recharge process is very convenient. I have been using phoneindia for quite sometime and have been very satisfied. (Chethan Kambi on Trustpilot.com)
Atlanta, Georgia (PRWEB) November 09, 2015
Indian expats worldwide get 161 or 403 free minutes to call India mobiles and landlines when they make a Voice Credit purchase on PhoneIndia.com between November 9 - 12. The 161 extra minutes apply on all Voice Credit purchases of minimum $2, while the maximum Bonus of 403 calling minutes to India are automatically received for a $50 order. One can get the promotional credit in few seconds, just as much as it takes to buy Voice Credit online on PhoneIndia.com: http://phoneindia.com/buy/voice?destination=India
The balance is instantly updated, plus the initial credit amount, as well as the Bonus never expire. Also, all Voice Credit collected through this promotion can be used to call both landlines and mobiles in India, as well as other international destinations.
The Diwali Bonuses are offered to facilitate calling India landlines and mobiles during this time of the year. The campaign is called "Light the lamp of love" and it makes direct reference at Rabindranath Tagore's poem "Light the lamp of thy love". PhoneIndia's message is an optimistic one. Indians far away from home are encouraged to be ambitious and strong and guide their way through challenges and hardship by nurturing empowering feelings like love.
The $2 Bonus brings 161 calling minutes to India and can only be received if one uses the coupon LI5HT when he or she places an order of minimum $20 Voice Credit on PhoneIndia.com by November 12 (23:59 EST). Both the main amount and the bonus will get to customer's online account automatically. $2 Voice Credit can be used for calls to India landlines and mobiles of a total of 161 minutes. The coupon is valid once per customer.
The $10 Bonus will be received immediately after having placed a $50 minimum order for Voice Credit on PhoneIndia.com, using coupon D33PAVALI by November 12. The Bonus will bring someone 403 calling minutes to landlines and mobiles in India, that can be used whenever necessary.
To open an account on PhoneIndia.com is very simple, plus it costs nothing. What someone needs to do is go to "Create new account" and fill in the basic details about his account: https://phoneindia.com/account/register
Free calls are also possible with PhoneIndia.com. And that is another great part of being a PhoneIndia.com customer. Thank You points are awarded on every purchase as part of a loyalty program that helps one collect points for each order, and use them later for international calls. More information on this can be found on a specialised page on PhoneIndia.com called Thank You points and available in the footer of the website.
The service is rated 4 stars out of 5 on review platforms. On such websites, customers describe the service as reliable and fast, economical and very good in terms of call quality.
-There are no hidden fees.
-Call quality is high.
-Voice Credit never expires.
-The website offers comprehensive solutions for expats: from calls abroad to transfers of mobile credit from PhoneIndia.com account to cell phones in India.
-All history and invoices are listed in customer's account and can be checked any time without paying a thing.
-Transactions are 100% safe; the service is certified by TRUSTe and BBB.
-Paypal accounts are accepted besides all major cards, no matter the currency or country of the sender.
-The service is among the easiest to use on the global market.
-KeepCalling calling app for Android or iOS is simple and intuitive and free.
-The Facebook community is well informed: https://www.facebook.com/PhoneIndia/
-There are regular promotions running on the website.
-The Facebook fans and the G+ followers are automatically notified about the on-going promotions as they happen.
-The Customer Service is highly supportive and responsive (reviews prove this) and it is available 24/7.
-Video tutorials are available on YouTube for independent users.
About PhoneIndia.com:
PhoneIndia.com is an interactive website designed by KeepCalling, a global telecommunications company registered in 2002 in USA. Presently, KeepCalling provides its services to hundreds of thousands of consumers and businesses worldwide, with a focus on customer satisfaction. KeepCalling has been listed by Inc 5000 as one of the fastest growing companies in the USA for 5 consecutive years. In 2015 the company registered a revenue increase of over 200% from 2011 to 2014.