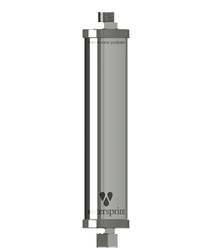 (PRWEB) November 09, 2015
World renowned UV LED solution company Seoul Viosys (http://www.seoulviosys.com) announced on November 5th its plan to partner with Watersprint (http://www.watersprint.com), a Swedish company developing water purification products and systems to develop a clean water supply solution.
This system will be applied to supplying safe drinking water for people suffering from drinking water contamination in Bangladesh.
Water purification products and systems based on the water control technology of Watersprint make it possible to keep water clean via sterilization of Seoul Viosys's Violeds technology.
Seoul Viosys' Violeds technology is eco-friendly and available in a compact module so it can be easily applied to industrial and commercial facilities, as well as to home applications. In the water purification system, Watersprint is using a Wi-Fi system for 24-hour water quality monitoring and statistics. These technologies are important to supply clean water.
It is well known that even boiled water or sterilized vacuum packed drinking bottled water cannot be kept several days without the possible contamination of virus or bacteria. Also, there have been many reports that tap water, shower mixers or water pipes are the main triggers of many diseases.
Seoul Viosys' Violeds technology, which is used in sterilization systems in the International Space Station's (ISS) bio-laboratory equipment, is applied to the newest clean water supply system with a performance rate of 99.99% sterilization. So, it is an important technological element to the water purification process.
Muhammad Yunus, a 2006 Nobel Prize for Peace Laureate and co-pioneer of the project, has been running the Micro Production Center to supply clean and safe drinking water in help improve water quality in Bangladesh. Seoul Viosys' Violeds technology combined with Watersprint's system is applied to the Yunus Centre. This system will be extended to the water purification system for 750 million people without access to safe drinking water in the world.
"The UV-LED technology is at the core of our products and we are extremely happy to enter this partnership with Seoul Viosys," Watersprint CEO Anders Ruland said. "Seoul Viosys is at the absolute forefront of this technology and strengthens our products. A month ago, we announced a collaboration with Yunus Center and the launch of Micro Production Centers for water cleaning in Bangladesh, of which we are pleased to use the Seoul Viosys technology," Mr Ruland continued.
Seoul Viosys CEO Jae-jo Kim also added, "I am very happy to bring drinkable water to much needed communities by teaming up with Watersprint to incorporate our state-of-the-art Violeds technology into this water purification solution." He later added, "The two companies will continuously cooperate to uplift the living conditions of people worldwide and capture business opportunities by developing and introducing new technologies."
About Violeds
Violeds is an advanced and clean technology realized by the collaboration of UV LED solution company Seoul Viosys and deep UV leader SETi to provide a clean and safe global environment. Seoul Viosys and SETi developed the world's first Deep UV LED technology more than 10 years ago. Not all LED products contain the Violeds technology. It is incorrect to think of UV LED as a light bulb. The UV LED technology is distinguished from other LEDs in that it is not for lighting that the human eye sees but has properties that affect the nature of physics in polymers, providing biological health benefits to humans and disinfection from harmful bacteria. Violeds has already been applied to the International Space Station (ISS), maintaining its germ free environment, and further acknowledging its safe use around humans due to the lack of chemicals used in its technology. The technology can be applied to bio-technology equipment and medical diagnosis equipment, as well as skin and other medical treatments.
About Seoul Viosys
Seoul Viosys is a company specializing in UV LED and Blue LED Chip manufacturing, of which officers and employees from Seoul Semiconductor and LED specialists founded, invested in, and operate. After its establishment in 2002, the company has focused on UV applications and is contributing to the expanded clean technology of UV LED. Seoul Viosys is continuously committing R&D efforts to develop electronic devices. As of June 2015, Seoul Viosys' total assets are worth USD $314 million, and the company's 700 employees are committed to the development and manufacturing of UV LED products.
About Watersprint
Watersprint, based in Sweden, innovates, develops and offers water purification products and systems for the disinfection of bacteria, viruses and protozoa in order to keep a sustainable society. Our operations are environmentally friendly and energy efficient. The company has expertise in water, nanotechnology, IT and telecom. We are located at Medicon Village in Lund, south of Sweden. Homepage: http://www.watersprint.com. Press Contact: christian(dot)jonsson(at)watersprint(dot)com, tel +46 (0) 735 464364
About Yunus Center
The Yunus Centre, in Dhaka, Bangladesh, is a think tank for issues related to social business, working in the field of poverty alleviation and sustainability. It is aimed primarily at promoting and disseminating Nobel Peace Prize Laureate Professor Muhammad Yunus' philosophy, with a special focus on social business and is currently chaired by Professor Muhammad Yunus.
# Inqury
Name: HS.park
E-mail: hanseon(dot)park(at)seoulviosys(dot)com