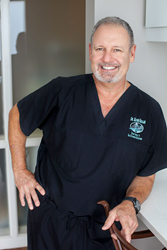 Mount Pleasant, SC (PRWEB) November 06, 2015
In observance of National Diabetes Month in November, Dr. Kevin Hogan is helping patients understand the relationship between this disease and gum disease. Studies indicate that diabetics may be prone to an elevated risk of gum disease, suffering from harmful complications once it has developed. Fortunately, those who suffer from gum disease in Mount Pleasant, SC, may be able to avoid many of the adverse side effects by visiting Dr. Hogan for the LANAP® protocol, which is a minimally invasive, laser gum surgery.
Research has proven that diabetics with poor control of their blood sugar are more likely to develop gum disease, as well as an increased risk for complications managing their diabetes. Since diabetics often incur difficulties combating infections, they may be more vulnerable to gum disease. Additionally, various conditions for those affected by diabetes, such as high salivary sugar content and blood vessel thickening, may also increase the risk of periodontal disease and other medical complications.
People who develop gum disease near Mount Pleasant, SC, can protect themselves from many of these concerns by seeking treatment from Dr. Hogan, who performs the LANAP® protocol as an alternative to conventional surgery. This treatment utilizes a laser to precisely remove diseased tissue, minimizing pain, bleeding or loss of healthy tissue, while offering an expedited healing time, with a decreased risk of complications. The minimally invasive approach and the sterilizing effects of the laser also decrease the risk of infections following treatment.
People who suffer from diabetes and notice signs of gum disease in Mount Pleasant, SC, are urged to protect their health by seeking professional attention promptly. To schedule a consultation with Dr. Hogan, patients may visit his website or directly call his practice.
Summary
Dr. Kevin Hogan is general dentist providing individualized care for patients in Mount Pleasant, SC. Dr. Hogan is a graduate of the Indiana University School of Dentistry and has completed hundreds of hours of continuing education courses to stay up to date with the latest dental technologies. In addition, he has also completed coursework with the Dental Organization for Conscious Sedation and has lectured at both the University of North Carolina and Emory University. Dr. Hogan is a member of the American Dental Association, International College of Cranio-Mandibular Orthopedics, Academy of Laser Dentistry, International Association of Physiologic Aesthetics, and Institute for Advanced Laser Dentistry, among many others. He and his team are dedicated to providing exceptional oral care to patients through personalized treatment plans. To learn more about the services offered by Dr. Hogan, please visit his website at http://www.smilesbyhogan.com or call (843) 639-5044.