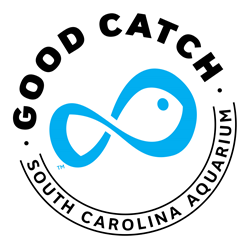 Charleston, S.C. (PRWEB) November 06, 2015
Locally and regionally sourced sustainable seafood is on tap for the next Good Catch dinner at Oak Steakhouse in Downtown Charleston. The dinner, featuring four courses carefully crafted by Chef Jeremiah Bacon with wine pairings, will take place Nov. 10 at 6:30 p.m. Guests should plan to arrive early for a special 6 p.m. celebration featuring champagne and passed hors d'ouvres at the restaurant located on historic Broad Street.
Offerings include:

Local pickled shrimp with bibb salad and radish paired with Clendenon, Tocai Friulano, 2012
Clammer Dave's little necks with herbed potatoes, celery and tomato broth paired with Frappato, Centonze, 2013
Surf & Turf with braised CAB short ribs, seared grouper, savoy cabbage paired with Lirac, Joncier "Le Classique", 2012
Poached pear and almond tart with housemade sorbet paired with Braida Brachetto d'Aqui, 2011
As a Good Catch Platinum Partner, Oak Steakhouse is committed to showcasing local seafood that is harvested sustainably right off the Charleston coast. This is important not only to protect Charleston's delicate ecosystem but also to support vibrant fishing communities.
South Carolina Aquarium Good Catch Manager Shelley Dearhart will be in attendance to educate guests about Good Catch and ways to make sustainable seafood choices when dining out and at home. The dinner begins at 6:00 p.m., and tickets are $75 and include wine pairings. Seating is limited, and reservations are required. Call (843) 722-4220 to make your reservation. A portion of proceeds benefit Good Catch at the South Carolina Aquarium.
Fast Facts:

The Good Catch dinner takes place Tuesday, Nov. 10, at 6:00 p.m.
Oak Steakhouse is located at 17 Broad Street, Charleston, S.C. 29401
Tickets are $75 and include a champagne celebration, four courses and wine pairings
A portion of proceeds benefit Good Catch at the South Carolina Aquarium
Seating is limited, so call (843) 722-4220 to make a reservation
For all media inquiries, please contact Kate Dittloff at (843) 579-8660 or kdittloff(at)scaquarium(dot)org.
About South Carolina Aquarium Good Catch:
Good Catch generates awareness and leads communities in support of healthy fisheries and consumption of responsibly harvested seafood. The program pragmatically balances the health of the environment with South Carolina's demand for seafood by working with consumers and chefs, helping them make wise seafood choices to support healthy, abundant oceans. More than 115 restaurant partners have committed to serve and purchase sustainable seafood whenever possible and to avoid species that are immediately vulnerable to extinction. As a community, when we choose seafood from local, sustainably managed fisheries or dine at restaurants which do the same, we minimize our impact on the environment. Find the most up-to-date Good Catch partner list and more information on making good seafood choices each season at scaquarium.org/goodcatch.
About Oak Steakhouse Restaurant:
Located on Charleston's historic Broad Street, Oak Steakhouse is a classic American steakhouse. A classic array of both wet and dry aged Certified Angus® Beef are featured on the menu. Chef Bacon, a Lowcountry native, sources locally and regionally from sustainable farmers and fisherman to accent the steakhouse menu. Items including local oysters on the half-shell, Clammer Dave's caper clams and a daily fresh fish selection depending on the season. Inside a historic bank building that dates back to 1848, Oak's stately setting features three floors with five distinct dining areas. Arched windows, 20-foot ceilings, original medal work, fireplaces and 150-year-old heart pine floors, offers the perfect setting for enjoying a special night. For more information visit oaksteakhouserestaurant.com or call (843) 722-4220.
About the South Carolina Aquarium:
The South Carolina Aquarium features thousands of amazing aquatic animals from river otters and sharks to loggerhead turtles in more than 60 exhibits representing the rich biodiversity of South Carolina from the mountains to the sea. Dedicated to promoting education and conservation, the Aquarium also presents fabulous views of the Charleston Harbor and interactive exhibits and programs for visitors of all ages.
The South Carolina Aquarium is a 501(c)(3) not-for-profit organization and is open daily from 9 a.m. to 5 p.m. The Aquarium is closed Thanksgiving Day, half day Dec. 24 (open 9 a.m. to 1 p.m.) and Dec. 25. Admission prices are: Toddlers (2 and under) free; Youth (3-12) $17.95; Adults (13+) $24.95. The Aquarium plus the 4-D Theater experience is free for Toddlers, $22.95 for Children, $29.95 for Adults. The 4-D Theater experience only is $6.95 for Children and Adults and free for Members. For more information, call (843) 577-FISH (3474) or visit scaquarium.org.
###