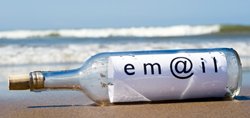 We definitely feel there has never been a better time to get serious about online security. Unfortunately, the data doesn't lie.
(PRWEB UK) 10 November 2015
Topmail are the world's first and only secure email provider that has the privilege of being supported and founded by an international security group, Top Security. With over 35 years of security expertise and support, the Top Security group has well established their brand as a security provider both in the virtual and psychical world. Initially launched for testing in 2006, Topmail is an Irish-owned email security company based in Dublin, Republic of Ireland.
Recognizing the need to provide online protection for the everyday email user, Topmail has launched its reinforced secure email service.
Instead of focusing on inundating users with tech knowledge, Topmail has instead taken the approach of building a service that focuses on providing the user with an email account that is easy to use and understand, whilst at the same time being robust in its technical capabilities.
In today's current climate, the likelihood of your online accounts being targeted by hackers is a very real possibility. 1 in 5 online accounts in the UK have been hacked according to the University of Kent, this includes email, social media and online banking. This type of data is equally as staggering in the US with 47% of American adults having their personal data exposed online.
The realization is that although businesses are being targeted on the larger scale, it is the everyday email user that is being targeted as a prime account waiting to be exposed.
Topmail uses built-in bespoke anti-virus software, purposely created to protect users' emails from potentially harmful viruses that could damage their device. Topmail scans and rejects emails with viruses long before they get the chance to reach your inbox.
The anti spam software built into the Topmail service confirms and verifies the safety of the sender without ever scanning the contents of your emails. With other major email providers now targeting accounts for advertising purposes, it is becoming clear that the privacy of your email is no longer something that is taken into consideration.
The aim of Topmail was to become an encrypted email service provider for everyone, not just the professionals. So they built their service as a user friendly email with built in encryption to further ensure the protection of messages.
As Topmail was created by a group of security industry professionals, the service was made with privacy at the forefront for all of its users. Emmet Curran CEO of Topmail commented "We are excited about the global launch of Topmail. We definitely feel there has never been a better time to get serious about online security. Unfortunately, the data doesn't lie."
Topmail provides anti-spam, anti virus and ad free email for its users and is compatible across all devices. Another feature of the email service is that it gives you the option to encrypt emails if you wish, which has proven time and time again as one of the most secure ways to protect your online information. This can be used with non Topmail users, based on a simple question and answer format.