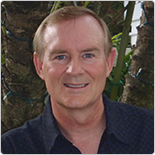 Everyone who knew Brad will miss his warmth, integrity, and intelligence.
Rye, New York (PRWEB) November 06, 2015
Family, friends, and colleagues mourn the tragic passing of James Bradford McGee on November 4, 2015. Brad was a loving and devoted husband, an insightful and diligent colleague, and a loyal friend to all who knew him.
Brad was a proud graduate of the United States Naval Academy and the Navy Nuclear Power School, and of Harvard Business School, which built the foundation of a career of strategic insight and achievement. Brad served as a Nuclear Engineer in the U.S. Navy and then as a Captain for 17 years in the Naval Reserve.
Brad was a founder of iCrowd and New Rye Securities, firms that embody his innovative passion for helping corporations capitalize on opportunities. Brad applied a strategic vision honed over a career of accomplishments to help clients succeed. Prior to founding iCrowd and New Rye, Brad was President of Seigel & Associates, an accounting consulting firm, following a very successful career at Tyco International Ltd., where he was instrumental in the company's transformation into a $40 billion global enterprise. At Tyco, Brad held wide-ranging responsibilities, including Executive Vice President, Chief Strategy Officer, Executive Vice President of CIT, and head of Tyco's Investor Relations.
Brad was an accomplished athlete, participating in marathons and iron-man competitions. He would say his favorite running partner was his Welsh Terrier, Casey.
"Everyone who knew Brad will miss his warmth, integrity, and intelligence," said John Callaghan, Brad's co-founder at iCrowd and New Rye. "I have known Brad since we were twelve and have known him as a dedicated friend. I always enjoyed his camaraderie, his wit, and his counsel. In losing Brad, I lose a best friend and a great business partner."
iCrowd will update this announcement when more information is available.
About iCrowd
About iCrowd, LLC bridges the gap between entrepreneurs and investors. Through a richly interactive web-based community, iCrowd is a premier platform for enabling small companies to access capital and individuals to discover opportunities for investment in private placement securities.
iCrowd's mission is to help finance small businesses.