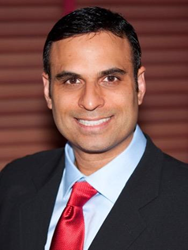 Chicago, IL (PRWEB) November 10, 2015
Dr. Amarik Singh is now welcoming new patients who need laser gum therapy in Chicago, IL to treat any stage of periodontal disease. Dr. Singh, a periodontist at Periodontal Implant Associates, uses the BIOLASE WaterLase REPaiR laser protocol at his Oak Brook IL practice. This laser gum therapy treatment is a multi-phase technique that utilizes minimally invasive and gentle methods, providing patients the opportunity to receive the treatment without fear.
The REPaiR laser protocol begins with a pre-surgical phase, consisting of a thorough periodontal examination, which includes charting, radiographs, and a complete assessment of medical and dental history. Once that process is complete, the doctor can initiate removing the areas of infection, starting with scaling and root planing. As a periodontist, Dr. Singh recognizes that these tasks are vital to any periodontal treatment process. Following this step, the surgical phase commences. The outer layers of the gums, where the pockets of infection are located, are the first to be treated with the laser gum therapy. Gum tissue is then removed, as necessary, to ensure that all infection is eradicated. Root planing and scaling is once again performed and the teeth are assessed for any defects. After the entire area has been cleared of all excessive debris, the laser is utilized to induce a blood clot, with the gums compressed against the teeth to assist with reattachment.
The BIOLASE WaterLase REPaiR laser protocol is supported by clinical evidence and scientific research, providing patients the assurance that they are receiving a comprehensive treatment plan, specifically designed to meet their needs. Gum disease patients in need of laser gum therapy in Chicago, IL from a qualified periodontist, are invited to contact Dr. Singh's office for additional information or to schedule an appointment.
About the Doctor
Periodontal Implant Associates is a periodontal practice offering personalized dental care for patients in Chicago, IL. After graduating from Northwestern University Dental School, Dr. Amarik Singh went on to obtain his Specialty Certificate in Periodontics and earn his Master's from Northwestern University. Dr. Singh is deeply committed to continuing education and prides himself on remaining on the cutting-edge of the newest techniques and technology in dentistry. Dr. Singh is part of an elite group of dental professionals at the forefront of the Chao Pinhole® Surgical Technique (PST®), a revolutionary new approach to repairing gum recession. To learn more about the periodontal services available at Periodontal Implant Associates, please visit http://www.pidentists.com or call 630-233-9278.