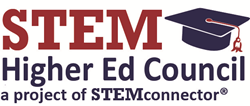 Higher Education must evolve ahead of the curve to meet STEM workforce needs and ensure that we are not disrupted out of business.
Washington, DC (PRWEB) November 09, 2015
STEMconnector® will host the second annual STEM Higher Education Council (SHEC) Summit: Disruptive Innovation in Higher Education, at the National Press Club in Washington, DC on November 9, 2015. The Summit convenes prominent thought leaders in higher education, industry, non-profit and government. It will showcase innovative models in higher education that strengthen the science, technology, engineering and mathematics (STEM) ecosystem. Examples include innovative internships and externships, models of effective STEM teacher preparation, cutting-edge technology and more. Key summit themes include retaining talent in the STEM ecosystem, aligning college majors to in-demand jobs and broadening participation of underrepresented populations. Sponsors of the Summit include Cengage Learning, Monsanto Company and My College Options®.
SHEC members share a commitment to increasing the quantity and quality of STEM graduates, particularly among women and underrepresented minority groups. These members also share an interest in working with higher education to better prepare students for high-skill jobs. Following the Summit, the Council will release Scaling STEM Success, a report highlighting what is working to realize this vision. Scaling STEM Success will feature successful efforts by SHEC members to equip students for the STEM workforce.
Rob Denson, founding SHEC Chair and President of Des Moines Area Community College, emphasized the need for innovation in higher education. "At one time buggy-whip and typewriter makers thought their business models were invincible. How did that work out? It is no different for higher education institutions that are sitting on the sidelines as change occurs all around them. We must evolve ahead of the curve to meet STEM workforce needs and ensure that we are not disrupted out of business."
Keynote speakers from the Summit include:

Ryan Craig Managing Director, University Ventures and Author, College Disrupted: The Great Unbundling of Higher Education
Jamie Merisotis President and CEO, Lumina Foundation and Author, America Needs Talent: Attracting, Educating, and Deploying the 21st-Century Workforce
George Miller Former U.S. Representative and Senior Education Advisor, Cengage Learning
Dr. Peter Stokes Managing Director, Huron Consulting Group and Author, Higher Education and Employability: New Models for Integrating Study and Work
"The Summit is an important and timely convening focused on vital questions regarding the roles and responsibilities of our colleges and universities in effectively preparing college graduates for the world of work – particularly in high-demand, technology-focused industries that serve as important engines of economic growth for our regional and national economies," says Dr. Stokes.
"The need for well-trained STEM graduates, particularly women and minorities, has never been greater," says Dr. Phil Eppard, Monsanto university engagement lead. "Monsanto is actively engaged in seeking out STEM graduates to help drive innovative solutions that can make a balanced meal accessible to everyone in a sustainable way."
The STEM Higher Ed Council encourages collaboration in new and exciting ways according to STEMconnector® CEO Edie Fraser. "Given technological advances, cost pressures, heightened competition and the demand for more middle and advanced job skills, disruption in higher education is critical to ensure a paradigm shift in STEM higher education. We salute the leaders participating in the Summit and encourage all to join in this movement and help students succeed in STEM jobs."
###
About the STEMconnector® STEM Higher Education Council
STEMconnector®'s STEM Higher Education Council (SHEC) is a leadership forum of colleges, universities and corporations intently focused on STEM education and careers. SHEC envisions being the national catalyst for meeting the education and training needs of the global STEM workforce and educating the scientists, technologists, and innovators needed for a vibrant economy. SHEC's mission is to bring focused energy to Higher Education's high-impact practices, increasing the emphasis on STEM pipeline-to-jobs. This summit and the forthcoming report build on the success of the acclaimed book, Advancing a Jobs-Driven Economy, that was released in February 2015. To learn more about the STEM Higher Education Council and STEMconnector, visit http://stemconnector.org