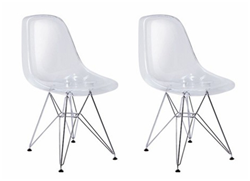 Lexy Ghost Chairs are always so popular, EZ Strives to keep up with customer demand.
(PRWEB) November 10, 2015
Customers have been counting the days down for Ezmod Furniture to get new shipments in for the items that tend to sell out extremely fast. Well, the wait is finally over. EZ has employees working around the clock updating inventory and bringing in the next batch of the hottest items within customer reach.
Take the sought after Lexy Eiffel Base Ghost Chairs; hot off the market and back in stock. The Lexy Ghost Chairs are sold in pairs and are known for their very unique shell. "Lexy Ghost Chairs are always so popular, EZ strives to keep up with customer demand," explained Angelique, marketing associate. The thick, acrylic that makes up the seats of the chairs are durable, sturdy ad stylish. It could even be considered an art piece, while maintaining the functionality of a dining chair for the kitchen, an accent chair for the living room or a chic seating area in the office.
Another item now in stock is the always popular Bertoia Style Counter Stool. With its well-known mesh wire back and strong, chrome legs this counter stool is almost guaranteed to sell out of the EZ Mod inventory. The beauty of this gorgeous reproduction is that it is made entirely by hand and can only be accomplished by advanced expertise. Surprisingly comfortable, this stool is constructed with the signature bend in the seat and back made of chrome, making it remarkably strong. It is extremely versatile and with its "mostly air" concept design, can be mixed and matched with almost any other chair.
EZ is also excited to announce that a Veteran's Day Promotion will take place from November 8 through November 11, 2015. Enter the promo code VETNOV15 at checkout to receive $20 off your entire order, with no minimum purchase. As always, Ezmod offers free shipping for all purchases on top of all the great savings.
From modern designs to midcentury to contemporary, Ezmod Furniture has what you are looking for. Ezmod Furniture is an online modern furniture company specializing in beautiful, premium furniture and interior décor. Ezmod Marketing Associate Angelique Valdez is happy to answer any questions you may have. For more about these featured chairs and all other inquiries, please call 866-630-6161 extension 113 for more information.