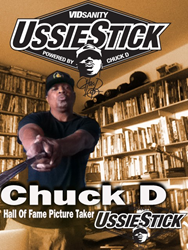 Chuck D says "People say "oh, a selfie," and I correct them by saying two or more people is an 'Ussie.'"
New York City, New York (PRWEB) November 09, 2015
Selfie On A Stick LLC is proud to announce its first celebrity collaboration with legendary artist Chuck D. The 'VIDsanity Ussie Stick Powered by Chuck D' will be available on UssieStick.com (http://www.ussiestick.com) and SelfieOnAStick.com (http://www.selfieonastick.com) starting on November 9. Fans and customers can purchase the 'Chuck D Ussie Stick' to take selfies and ussies and share across social media using the hashtags #ChuckDUssie #SquadStick #StickPic #MeToWe.
"There is a very obvious reason why I came up with the term #USSIE…30 years, 104 tours, 103 countries in music and 25 years on the lecture circuit," Chuck D says. "Yes, I take a lot of pictures and now smartphone pics have replaced the autograph. I take many of them self shot. People say 'Oh, a selfie,' and I correct them by saying two or more people is an 'Ussie.'" Chuck D continues, as in the words to the infectious song '#USSIE' by Chuck D's SPITdigital recording artist Haley And Us, "Ussie, ussie not a selfie…come on let's take an Ussie!" (http://www.SPITdigitalRecordings.com)
The 'Chuck D Ussie Stick' is based on the 'SelfieOnAStick.com's Wired' selfie stick model, which is compatible with most handheld devices including iOS 5.1+, and Android 4.3+ devices. To use a 'Chuck D Ussie Stick' fans can simply place a smartphone into the spring-loaded clamp, plug the wire into the headphone jack, and open a camera application. Then extend the Ussie Stick and click the button on the stick to take the perfect photo. The sticks are expected to sell for $24.99 and will come in special edition packaging designed by Chuck D.
"Chuck loves Ussies and he understands the power a picture has," Selfie On A Stick CEO Jacqueline Verdier says. "Chuck is an icon and SelfieOnStick.com is thrilled to collaborate with him. In choosing to partner with Selfie On A Stick, Chuck recognized SelfieOnAStick.com's premium quality and reputation for customer satisfaction. More people are realizing that the selfie stick is a misnomer, as this is an accessory that helps capture life's amazing moments with friends and family. Soon, everyone will be saying, 'Come on, let's take an #Ussie!'"
The 'Chuck D Ussie Stick' will be available at SelfieOnAStick.com for $24.99 until the special edition sells out (quantities are limited). Retailers interested in stocking the 'Chuck D Ussie Stick' can contact SelfieOnAStick.com for wholesale pricing by email at info(at)selfieonastick(dot)com or by phone at 212-706-6038.
About Selfie On A Stick LLC and http://www.SelfieOnAStick.com
Founded in New York City, SelfieOnAStick.com's range of selfie sticks are quickly catching on as the hottest lifestyle accessory for capturing life's many memories. Selfie On A Stick's range of selfie stick models have received attention from national media including Good Morning America, CNN, People, Vogue, and WIRED, and can be found in national retailers coast to coast and on SelfieOnAStick.com. Selfie On A Stick LLC was the recipient of the Minor League Baseball and OnDeck Capital Small Business Of The Month Award (August 2015). All Selfie On A Stick models can be customized to suit personal and professional taste. SelfieOnAStick.com encourages all customers to follow Selfie On A stick on Instagram and Twitter @SelfieOnAStick and Facebook @SelfieOnAStickOfficial and to post their selfies and ussies.
About Chuck D and VIDsanity
Chuck D is a co founder of the seminal RAP music group Public Enemy, known all over the world and inducted into the Rock and Roll Hall Of Fame in 2013. Chuck D and Public Enemy have sold millions of records and completed 104 world tours in a career spanning 29 years. VIDsanity is a groundbreaking Do-It-Yourself video service company for artists, founded by Gary G Wiz and Chuck D as a division of BRING the Noise Eastlink Enterprises, a company inter-networking the Sound Style Story and Sound of artists and culture today. More information on Chuck D and VIDsanity can be found at http://www.publicenemy.com.