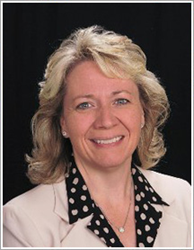 Her creative leadership and warm personality guarantee success with her residents and their families, employees, volunteers and board members
(PRWEB) November 08, 2015
A successful, experienced executive director has been chosen to lead one of Cincinnati's premiere retirement communities Llanfair Retirement Community located in the historic College Hill neighborhood.
Jean Morgan took the lead at the Southwest Ohio retirement community in October 2015. Immediately prior, Morgan held the same position at Cape May Retirement Village, Llanfair's sister campus in Wilmington, for two years.
A licensed nursing home administrator since 1989, Morgan has been working in the long-term care industry for 34 years, serving older adults with Ohio Presbyterian Retirement Services (OPRS) for 25 of those years.
Leadership of the entire Cincinnati campus – including its homes, independent apartments, assisted living and rehabilitation and health care center – are under Morgan's direction.
"Choosing the right leader was vital for Llanfair," says OPRS Chief Operations Officer Daniel J. O'Connor. "Jean skillfully managed retirement communities both large and small and is a confident, natural team-builder. Her creative leadership and warm personality guarantee success with her residents and their families, employees, volunteers and board members."
"I've spent my first months here learning the culture and meeting the people. My immediate future includes really getting to know each resident and employee, assisting the leadership team in guiding employees toward focused, excellent care, and overseeing the care and services that will be offered in the rehabilitation and health care center," says Morgan.
Morgan has a Bachelor of Education from Miami University, Oxford, Ohio, and has a nursing home administrator license. She is a Monroe, Ohio, native. Morgan has one son, a junior at Baldwin Wallace University in Berea, Ohio.
About Llanfair
Llanfair Retirement Community is one of 12 retirement communities owned and operated by OPRS Communities, a wholly-owned subsidiary of Ohio Presbyterian Retirement Services (OPRS), headquartered in Columbus. Since 1922, OPRS has defined the highest standards of quality of life for older adults. Each year, OPRS serves more than 73,000 people through its wholly owned subsidiaries OPRS Communities and Senior Independence. Another wholly owned subsidiary, the OPRS Foundation raises several million dollars annually to support charity care, special programs, capital expansion and endowment.