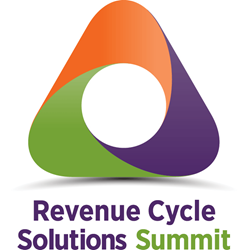 Hospitals are being forced to alter the way they interact with patients, and that includes how they bill and collect payments
Portland, ME (PRWEB) November 09, 2015
HIMSS has announced the agenda for their Revenue Cycle Solutions Summit, a stand-out event for financial decision makers in healthcare, which will be held in Atlanta on December 7 and 8, 2015. With consumerism rising, along with the seismic shift toward value-based care, healthcare organizations are facing a more competitive environment than ever before. HIMSS' Revenue Cycle Solutions Summit will bring together academic researchers and leading payer and provider organizations to help illuminate the road forward, and to demonstrate the changes organizations must make to survive these transformative times.
"Hospitals are being forced to alter the way they interact with patients, and that includes how they bill and collect payments," said John Whelan, executive vice president of HIMSS Media. "Staying the course simply isn't an option. So we plan to analyze what's viable now, and how organizations can go about implementing change to drive success and stability."
The Revenue Cycle Solutions Summit will combine practical, solutions-driven case studies with leadership talks on how to align your organization behind your new financial strategy, tackling human and technical factors together in one unique two-day forum.
Speakers will include:
KEYNOTE SPEAKERS
· Douglas Hough, Associate Scientist, Department of Health Policy and Management, Johns Hopkins University
· Rick Gilkey, Professor, Organization & Management, Emory University
FEATURED SPEAKERS
· Martin Prahl, Health IT Consultant, Social Security Administration
· Mark Norby, Chair, Enterprise Revenue Cycle, Mayo Clinic
· Todd Craghead, Vice President, Revenue Cycle Organization, Intermountain Healthcare
Panel discussions and boot camps will tackle technical and business challenges, including:
· Billing in the Age of the Consumer
· Vetting Vendors, Boosting Performance and Driving ROI
· ICD-10: How it's gone, what comes next
· Management Tools & Technology to Improve Out-of-Pocket Collection Rates
· Competing with Low-Cost Providers, Denial Management and Organizational Alignment
· Keep the Cash Flowing: RCM Best Practices During an EHR Installation
· Designing Cost Effective Staffing Models through Real Time and Predictive Analytics
· Sustainability, Health IT and Social Security Disability
And much more. For the full agenda, or to find registration and sponsorship information, click here.
If you cover the healthcare industry, the forum will give you access to the thought leaders and organizations shaping the business of healthcare reform. Press and media passes are available to qualified individuals, but space is limited. Contact Peggy Diab to receive your pass and to set up interviews with speakers or HIMSS representatives.
About HIMSS
HIMSS is a global, cause-based, not-for-profit organization focused on better health through information technology (IT). HIMSS leads efforts to optimize health engagements and care outcomes using information technology. HIMSS is a cause-based, global enterprise producing health IT thought leadership, education, events, market research and media services around the world. Founded in 1961, HIMSS encompasses more than 52,000 individuals, of which more than two-thirds work in healthcare provider, governmental and not-for-profit organizations across the globe, plus over 600 corporations and 250 not-for-profit partner organizations, that share this cause. HIMSS, headquartered in Chicago, serves the global health IT community with additional offices in the United States, Europe, and Asia.
###