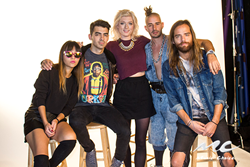 (PRWEB) November 09, 2015
Music Choice will feature exclusive content promoting the "2015 American Music Awards" across all of its properties including On Demand, Music Choice Play, Music Channels and its digital properties now through the live broadcast of the "2015 American Music Awards" on Sunday, November 22 at 8:00pm ET on ABC. With over 50 million listeners and 1 billion annual video views, Music Choice is the ultimate destination for the best in music and video content. This marks the third year dick clark productions and Music Choice have teamed up for this marquee event.
Starting today, Music Choice Video On Demand will feature a top-level American Music Awards folder from November 9th through November 26th featuring music videos from this year's host Jennifer Lopez, in addition to nominees including Taylor Swift, Ed Sheeran, The Weeknd, Nicki Minaj, Sam Smith, Justin Bieber among others, and performers including 5 Seconds of Summer, Selena Gomez, Carrie Underwood, One Direction, Demi Lovato, Nick Jonas, Walk The Moon, Luke Bryan, Meghan Trainor, Charlie Puth and many more. (Directional: MC Music Choice>American Music Awards)
Music Choice Play goes A-List in honor of the American Music Awards starting November 16th. Fans can watch music videos by AMA nominees all week long and voice their predictions on Twitter using #AMAs. Themed editions of MC Now and Red Carpet Rush will air during the week-long festivities and culminate with a special edition of The Weekend Countdown with Sophie Sumner and co-hosts DNCE that premieres nationally Friday, November 20th at 7pm ET on Music Choice Play. (check local listings). Formed in the summer of 2015, DNCE (which stands for dance), was born from Joe Jonas' long-brewing plan to launch an offbeat pop project inspired by the melodic R&B of Earth, Wind & Fire and Hall & Oates. The band features Jonas along with guitarist JinJoo Lee, bassist/keyboardist Cole Whittle and drummer Jack Lawless.
MC's Hit List Music Channel will feature AMAs facts and images tied to nominees and performers. From Friday, November 20-Sunday, November 22, our Hit List channel will be co-branded as Hit List: American Music Awards, featuring special photos and Tweets from the red carpet day of the big event.
Additional content will also appear on the MC Hit List Video Channel via app and web including exclusive post-show interviews from the red carpet.
For more information about Music Choice log onto http://www.musicchoice.com
About the American Music Awards
The American Music Awards features performances from today's hottest artists and presents fan-voted awards in the categories of Pop/Rock, Alternative Rock, Country, Rap/Hip-Hop, Soul/R&B, Adult Contemporary, Contemporary Inspirational, Latin, EDM, Soundtrack, Song of The Year, New Artist of the Year Presented by Kohl's, Collaboration of the Year Un-leashed by T-Mobile and Artist of the Year. The American Music Awards pays tribute to today's most influential and iconic artists. The show is produced by dick clark productions and is seen in more than 160 countries around the world. For more information, visit http://www.theamas.com, http://www.dickclark.com or abc.go.com/shows/american-music-awards.
About dick clark productions
dick clark productions (dcp) is the world's largest producer and proprietor of televised live event entertainment programming with the "Academy of Country Music Awards," "American Country Countdown Awards," "American Music Awards," "Billboard Music Awards," "Dick Clark's New Year's Rockin' Eve with Ryan Seacrest," "Golden Globe Awards," "Hollywood Film Awards" and the "Streamy Awards." Weekly television programming includes "So You Think You Can Dance" from 19 Entertainment, a division of CORE Media Group and dcp; "World's Funniest" from Jukin Media and dcp; as well as "BOOM!" from Keshet DCP, the joint venture between Keshet International (KI), the global distribution and production arm of Keshet Media Group and DC Media, the parent company of dcp. dcp also owns one of the world's most unique and extensive entertainment archive libraries with more than 55 years of award-winning shows, historic programs, specials, performances and legendary programming. For additional information, visit http://www.dickclark.com.
About Music Choice:
Music Choice, the multi-platform video and music network, delivers its music programming to millions of consumers nationwide through their televisions, online and mobile devices. Music Choice programs dozens of uninterrupted music channels; produces originals that feature today's hottest established and emerging artists; offers thousands of music videos; and launched Music Choice Play, the music video, lifestyle and entertainment network for Millennials. For additional information log on to http://www.MusicChoice.com | Twitter: @MusicChoice | Facebook: http://www.facebook.com/MusicChoice
###