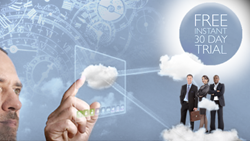 We now offer a Free Trial for AMGtime Web Subscription.
Los Angeles, CA (PRWEB) November 11, 2015
Employee management is one of the most challenging tasks of running a successful company and AMGtime knows this. Home to an extensive range of time and attendance solutions, AMGtime continues to offer innovative and efficient employee time management solutions to its clients.
With a number of choices at your disposal, it can be very difficult to pick a time and attendance product that matches the needs of your business. To help people make an informed decision about their time and attendance software purchases, AMGtime now offers a free trial of their employee management web services.
AMGtime employee management systems not only enables you to eliminate buddy punching and employee time theft but also simplifies the process of employee scheduling and payroll processing. The software has features that allow you to comply with labor laws and regulations even from a mobile device.
The software also allows you to:

Stay in Compliance Federal Regulations – AMGtime employee management systems allows you to stay in compliance with the U.S. wage and hour laws including accurate calculation of employee work hours, rounding rules and efficient employee management.
Enhanced Workforce Management – Aside from time and attendance, AMGtime systems can help you meet benefit requirements such as the California Mandatory sick pay rule and ACA compliance.
Managing your Employees on the go – The modern business model requires you to be mobile and even may require your employees to be mobile. AMGtime mobile applications for both Android and iOS phones allows managers to manage employees remotely and allows employees to log in remotely with geo-fenced and photo features.
Talking about the trial, the company spokesperson said, "We are constantly looking to add new features to our software to meet the needs of the market. Also, to assist customers in making informed decisions, we now offer a free trial for AMGtime Web Subscription, so that our clients can have complete satisfaction when purchasing our employee management software."
To subscribe for your complimentary trial now, click here.
About the Company
With more than 20 years of experience, AMGtime is a national leader in time attendance products, services and products. This innovative Los-Angeles company has a passion for offering employers advanced time attendance systems that boost the efficiency and accuracy of time and payroll records and facilitate our customers to select the best solution to meet their needs.
Time attendance solutions from AMGtime will not only help you manage your employee and attendance system but also facilitate you to focus your organizational resources where they should be – on managing your business. The company offers a comprehensive range of time and attendance products and services.