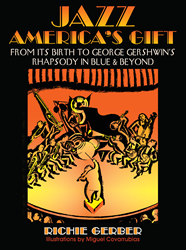 Rather than taking a dry, academic approach to the subject, Gerber, a musician and natural foods entrepreneur, writes in a conversational, lively, and witty style —Kirkus Reviews
Fort Lauderdale, Florida (PRWEB) December 16, 2015
Richie Gerber's debut book, Jazz: America's Gift, named by America's celebrated journal of book reviews, Kirkus Reviews, as one of the Best Indie Books of 2015. Gerber's lively jazz chronicle will appear in Kirkus Reviews magazine, Kirkus Reviews email newsletter, and on the Kirkus Reviews website.
In Jazz: America's Gift, Gerber draws from his unique perspective as an accomplished musician, comedian, impresario, and George Gershwin scholar. Kirkus Reviews writes, "[Gerber] makes a strong, enthusiastic case for Gershwin's contributions to jazz, something that many jazz historians, according to the author, don't often acknowledge ("As far as George Gershwin goes—jazz can't live with him and jazz can't live without him!")."
Kirkus Reviews adds "Gerber paints a vivid picture of jazz's roots in slaves' spirituals and minstrel shows; the music's popularity in the Storyville section of New Orleans; and the emergence of Louis Armstrong."
Gerber's book is a reminder of the harmony that emerges from the jazz art-form that transcends racial and religious differences. As Kirkus Reviews further states, "[Gerber] unearths some interesting facts, such as shared cultural experiences of African-Americans and Jews: he notes that African-American singers such as Billie Holiday and Alberta Hunter recorded Jewish songs, and that Louis Armstrong so admired Jewish people that he wore a Star of David around his neck."
Complementing the witty, engaging narrative of Jazz: America's Gift is the signature artwork of the celebrity artist Miguel Covarrubias. Kirkus Reviews notes, "Covarrubias' vibrant illustrations really enhance the text." Summing up Gerber's book as, "A lively… overview of jazz's origins."
As well as the Kirkus Reviews Best Indie Books of 2015 literary honor, Gerber has been receiving additional critical acclaim for Jazz: America's Gift: "Exceptionally well written . . . thoroughly 'reader friendly'... a 'must' for all jazz enthusiasts" and "very highly recommended and rewarding reading," says The Midwest Book Review, Small Press Bookwatch.
Publisher's Weekly issued a complimentary review of Jazz: America's Gift on BookLife, saying, "Gerber's deft, energetic examination of Gershwin's music . . . illuminates the enormous Jewish contribution to the great American musical export, jazz," and "[Gerber] scores points with his bold commentary about the complicated political and cultural relationships between Jewish and black communities with regard to jazz." The Publishers Weekly review continues, "Gerber… links the raw power of jazz and the blues to the country's past of prejudice and racism," and "Gerber does well with the life of musical genius George Gershwin."
Mediagenic South Florida resident Richie Gerber, is available for interviews and media appearances. Maine humorist Tim Sample says of Gerber, "[He's] funny, smart, talented and charismatic . . . the 'real deal.' He ha[s] stellar musical chops, tons of experience, plus he['s] from freakin' New York City, man!" Who could ask for anything more?
Visit JazzAmericasGift.com for contact details, review copies, photos, and an author bio.