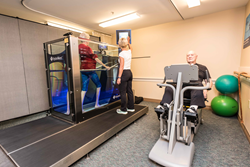 It's ideally suited for private practice clinics and facilities that want to give their patient populations the benefit of water therapy equipment.
Middletown, PA (PRWEB) November 06, 2015
HydroWorx is proud to be attending the annual American Physical Therapy Association's (APTA) Private Practice Section (PPS) Conference and Exhibition. This year's event will take place in sunny Orlando, FL, at Rosen Shingle Creek, from November 11-14. There, the nearly 1,000 attendees, including private practice clinic owners and physical therapists, will have the opportunity to get a first-hand look at – and demonstration of – the innovative construction-free HydroWorx 300 Series water therapy modality that was first unveiled in June 2015.
The HydroWorx 300 Series is a free-standing underwater treadmill system that utilizes the same engineering and technology that can be found in all world-class HydroWorx therapy pools. However, its modest footprint allows it to be installed virtually anywhere. It's ideally suited for private practice clinics and facilities that want to give their patient populations the benefit of water therapy equipment – and their businesses a competitive advantage – but are unable to perform construction to have a therapy pool integrated into their site.
The most essential and noteworthy advantages of the HydroWorx 300 Series include:

It does not require construction, fits through a 36" doorway and can maximize underutilized space in your clinic; even if you are leasing space!
It can be placed next to land-based equipment. Your aquatic patients can be in the same line of sight as your land patients.
It features the advanced technologies of a larger pool, but in a smaller format.
It is cost-effective for smaller or start-up private practice clinics.
It's a new program to treat more patients with limited mobility or those that have stopped progressing on land.
The HydroWorx 300 Series will enjoy its PPS 2015 debut in HydroWorx Booth #733. Interested visitors can schedule a personal demonstration of this highly functional aquatic therapy modality, as well as learn how it can cost-effectively set any clinic apart from the competition. Because one-on-one demonstrations will be offered on a first-come, first-served basis, interested participants are requested to sign up for a 15-minute appointment ahead of the conference by emailing Nick Valek at nvalek(at)hydroworx(dot)com.
HydroWorx will offer refreshments for attendees who stop by Booth #733 on November 12, and free HydroWorx T-shirts and gift cards for those who fill out a short market survey. Additionally, industry expert and clinic owner, Keith Ori, PT, OrthopedicRehab Inc., will be on hand to share his clinic's aquatic therapy financial information and integrative best practices.
Ori, an expert on aquatic therapy, has written numerous published articles including "Translating Practice Outcomes to Your Bottom Line" and "Diving into Aquatics: Is It Right for You?" He has also been a regular contributor to HydroWorx's webinar series, most recently co-presenting "Creating a Scalable Business with Aquatic Therapy" in May.
"We are thrilled to have the 300 Series at PPS and to have Keith Ori join us to talk with attendees about his experience with integrating aquatic therapy into a physical therapy clinic," says Anson Flake, CEO and co-founder, HydroWorx. "We are thankful for our partnership with him and know his experience with starting a clinic from the ground up will be valuable for attendees to hear and learn from."
For more information on the 300 Series, visit the HydroWorx site.
About HydroWorx®
Since the late 1990s, HydroWorx has manufactured aquatic therapy pools with built-in underwater treadmills to enable physical therapists to more effectively offer their patients the opportunity to increase range of motion, decrease risk of falls and joint stress, and remain motivated through the rehab process.
Products such as the HydroWorx 2000 and 500 Series therapy pools, along with the new construction-free HydroWorx 300 system have revolutionized the face of aquatic therapy; in fact, HydroWorx technology is used by world-class facilities like the renowned Kennedy Krieger Institute and The Andrews Institute, as well as physical therapy clinics across the country.
HydroWorx offers a wide range of underwater treadmill pools and peripheral products and services. Every day, more than 24,000 athletes and patients use HydroWorx technology to recover from injuries and health conditions.
More information about HydroWorx can be found at http://www.HydroWorx.com.
# # #