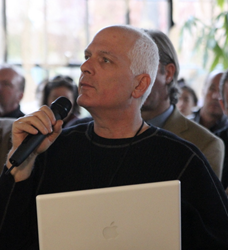 William brings to the table a strong dedication to his craft and a unique sense of passion that will fuel a new breed of creative and innovative.
Owings Mills, Maryland (PRWEB) November 09, 2015
Tricerat Inc., a leader in delivering mobile print applications and simplified IT solutions for system administrators, today announced the appointment of William Volk as the company's new Chief Marketing Officer. With over 25 years of creative leadership experience in software and gaming development, Mr. Volk will manage the brand expansion of new, mobile-based Tricerat technologies in emerging mobile markets, further strengthening Tricerat's abilities to help organizations of all sizes achieve enterprise-wide mobility, no matter how complex the IT infrastructure.
Volk began his career in 1979, on the launch team of the computer game division of Avalon Hill, now a subsidiary of Hasbro, Inc. Volk further served as the Vice President of Technology at Activision, Inc., where he was responsible for the development of the first CD-ROM entertainment project. Following his tenure at Activision, Volk joined Lightspan, Inc., as Chief Technologist of Gaming Technology. In this role, he managed programming and Q&A groups, created a process that reduced title production lead times from an 18-month cycle to a 4-month cycle, and produced more than 110 titles for the Sony PlayStation. In 1999, Volk became Co-Founder and Chief Technology Officer of Save.com, where he and his team developed the first bar-coded grocery coupons available on the Internet. His understanding of the technology, security and interface issues were critical to Save.com's successful launch.
More recent, Volk founded ZipProof, a SAAS company that enabled print shops and ad agencies to get customer approvals and corrections for graphic designs. He also joined James Cameron's Earthship TV, researching video delivery systems and 360º camera systems. Volk further co-Founded MyNuMo, which enabled independent artists to publish ringtones, wallpapers and mobile videos. MyNuMo went on to create some of the first iOS titles and a wide range of apps, including VOIP, Personal Security, Cooking Show and Games. Game assets were acquired by PlayScreen in 2010, where Volk remains as Chief Creative Officer.
"We are thrilled to welcome William as the latest addition to the Tricerat team," said Tricerat President & CEO John Byrne. "Along with vast software development experience and a wealth of knowledge in the mobile application space, William also brings to the table a strong dedication to his craft and a unique sense of passion that will fuel a new breed of creative and innovative mobile IT solutions."
For more information, please email pr(at)tricerat(dot)com or visit the Tricerat website at tricerat.com.
About Tricerat:
Tricerat is a company dedicated to making IT simple. We believe that IT Administrators should have more time to spend on strategic and meaningful company initiatives, rather than mundane tasks. Tricerat's mission is to simplify the lives of IT admins by automating the everyday, routine tasks associated with managing a trouble-free user experience. We accomplish this by delivering dependable and easy-to-use software tools and personalized world-class support and service. By listening and paying attention to system administrator needs, we've developed products that not only prevent known system limitations but also maintain and improve the end user experience.
Tricerat has been able to solve IT network problems for over 8,000 customers worldwide and has created many invaluable partnerships with value-added resellers, consultants, and systems integrators. Tricerat has formed critical industry alliances as a Citrix Ready Partner, Gold Certified Microsoft Partner, and VMware Technology Alliance Partner to ensure not only the benefits of today's technology, but the compatibility for longstanding service in the future.
After 15 years in business, Tricerat has experienced rapid growth yet maintained the privately owned and operated atmosphere of a company that is determined to stay on top with true staying power.