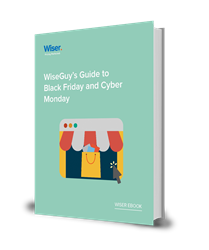 This time of the year is synonymous with high traffic and sales volume, and we want to make sure retailers have the resources they need to capitalize on this opportunity
San Francisco, CA (PRWEB) November 12, 2015
For many online retailers, the holiday season is the busiest time of the year, where profits are posted and sales are coming in faster than ever. The WiseGuy's Guide to the Holiday Season provides guidance for eCommerce professionals to help them navigate the craziest time of the retail year. The eBook offers tips on what sellers need to know to improve their business in the areas of merchandising, pricing, advertising, and more.
Providing guidance on topics such as inventory management, Wiser strives to help retailers stay competitive on two of the busiest shopping days of the year and beyond. Retailers will also get a sneak peak into how they can get a piece of the $630.5 billion expected to make up holiday sales in 2015. The eBook provides several tips that can help retailers monitor competitor prices and stand out to shoppers. It's also full of advertising tips that are designed to attract returning customers to the checkout screen.
Arie Shpanya, CEO of Wiser, said, "The holiday shopping season as a whole is the best time for retailers to get pushed into the 'black'. This time of the year is synonymous with high traffic and sales volume, and we want to make sure retailers have the resources they need to capitalize on this opportunity."
For retailers that are looking to get the most out of the holiday season, Wiser's new eBook is the ultimate guide for success. From early promotions to optimizing pricing, The WiseGuy's Guide presents the most action-oriented tips retailers can get their hands on in 2015.
Click here to download the complimentary eBook.
About Wiser:
Wiser levels the retail playing field with a turnkey solution for retailers, brands, and manufacturers to stay both competitive and most importantly, profitable.
Wiser's flagship product, WisePricer, gives retailers unprecedented visibility into the competition through price monitoring and access to the most advanced dynamic pricing algorithms. WisePricer monitors, analyzes, and reprices products in real-time keeping retailers competitive, while reducing costs. With robust analytics which enables retailers to see the profit and revenue impact, retailers can price with confidence and optimize their strategies.
Wiser also offers a MAP monitoring solution, WiseMapper, for brands and manufacturers to monitor and protect their pricing across the thousands of retailers selling their products.
For more information on Wiser, please visit wiser.com