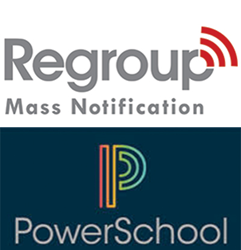 PowerSchool, the most widely used web-based student information system, supports more than 13 million students globally.
San Francisco, CA (PRWEB) November 10, 2015
Regroup Mass Notification, the award-winning leader in emergency and mass notification systems, and PowerSchool Group LLC ("PowerSchool"), the leading student information system (SIS), have joined forces through an independent software vendor (ISV) partnership agreement to bring K-12 school districts a robust mass communication tool that will seamlessly integrate with PowerSchool products.
PowerSchool, the most widely used web-based student information system, supports more than 13 million students globally. PowerSchool enables today's educators to make timely decisions that impact student performance while creating a collaborative environment for parents, teachers and students to work together in preparing 21st century learners for the future.
"PowerSchool is proud to add Regroup Mass Notification to our network of industry-leading applications that seamlessly integrate with and enhance our student information system for the end user. Our unique ISV Partner program with close to 150 partners ensures our customers enjoy the best choice and functionality in education technology products, and gives PowerSchool another clear advantage over other SIS products in the market," said Oliver Wreford, vice president of product and marketing at PowerSchool.
Regroup's powerful, yet easy-to-use mass communications platform is leveraged by K-12, universities, state/local governments, corporations and nonprofits across North America to streamline emergency and day-to-day communications. Their new partnership with PowerSchool will help them introduce their award-winning platform to an increasing number of K-12 districts across the country.
"A Regroup/PowerSchool collaboration is going to benefit K-12 districts immensely. For example, this integration will allow school administrators and faculty to send out Regroup text notifications to parents alerting them about such things as their child's lunch balance being low, their child's attendance, or to schedule a parent-teacher meeting. And of course, parents will feel safe knowing that Regroup's mass notification platform will be utilized for emergency notifications as well," said Joe DiPasquale, CEO of Regroup.
For more information about Regroup, visit http://www.regroup.com
For more information about PowerSchool visit http://www.powerschool.com
###
About Regroup:
Regroup, the leading provider of Emergency and Mass Notification solutions and DRI 2015 Notification System of the Year, offers easy one-click messaging to mobile phones (text/voice), landlines, email, social media, websites and more. Regroup stands apart from other mass communication systems with its ease of use, automated messaging capabilities, seamless integration with client databases and other third-party systems, unparalleled 24/7 customer support and unlimited text/voice/email messaging.
To learn more about how Regroup's Emergency Notification System can provide rapid communications during a crisis, as well as streamline day-to-day communications, call 917-746-6776 or email inquiries(at)regroup(dot)com
About PowerSchool:
PowerSchool is the most widely-used SIS, serving more than 13 million students in the US, Canada and in more than 70 countries. PowerSchool plays a central role in K12 education, serving as the hub of customers' education ecosystems with robust features and APIs that allow education stakeholders to manage school processes and student data and connect diverse education technologies utilized in classrooms, schools and districts. Learn more about PowerSchool at http://www.powerschool.com.