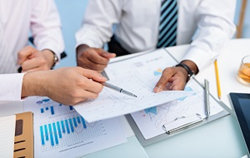 Boulder, Colo. (PRWEB) November 10, 2015
Enterprise Management Associates (EMA), a leading IT and data management research and consulting firm, today announced it will host a research webinar titled "Data Warehouse Automation: Nerve Center for a Data-Driven Organization," featuring EMA managing research director, business intelligence and data warehousing, John Myers, and Heine Krog Iversen, CEO at TimeXtender.
Data-driven cultures are pushing change and disruption in both vertical industries and IT departments around the world. Data-driven cultures are turning existing business models and traditional industries upside down and dramatically reinventing how transportation, entertainment, and commerce are implemented. Data-driven cultures are also putting pressure on IT departments to support their information-intensive practices and adapt analytical environments, not only to meet the challenges of reporting and analytical discovery but also to find the new insights for which requirements have not been thought of yet.
Myers and Iversen will discuss how organizations can improve their responsiveness to business change and adapt to a data-driven environment, as well as:

How data-driven organizations are changing business and technology
Which data sources are empowering data-driven organizations and challenging IT departments
How IT departments and analytical teams can get ahead of data-driven change
How data warehouse automation enables not only data-driven business stakeholders, but proactive IT departments
The webinar is Tuesday, November 17 at 1:00 p.m. Eastern. Those who wish to attend can register at: http://research.enterprisemanagement.com/data-warehouse-automation-webinar-pr.html
About EMA
Founded in 1996, EMA is a leading industry analyst firm that specializes in providing deep insight across the full spectrum of IT and data management technologies. EMA analysts leverage a unique combination of practical experience, insight into industry best practices, and in-depth knowledge of current and planned vendor solutions to help clients achieve their goals. Learn more about EMA research, analysis, and consulting services for enterprise line of business users, IT professionals and IT vendors at http://www.enterprisemanagement.com or blogs.enterprisemanagement.com.