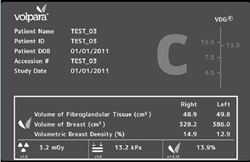 This updated FDA clearance is significant as it supports the ability of Volpara to analyze breast density using the BI-RADS 4th Edition and the new 5th Edition that a growing number of radiologists are migrating to," said Ralph Highnam.
WELLINGTON, New Zealand, (PRWEB) November 09, 2015
Volpara Solutions, the leading provider of automated breast density assessment and quantitative breast imaging tools, announced today that it has received a new 510(k) clearance from the U.S. Food & Drug Administration (FDA) for its VolparaDensity™ breast imaging software. Originally cleared for use by the FDA in 2010, Volpara Solutions technology is currently in use in 31 countries and more than 7-million women have had their breast density analysed using VolparaDensity.
The new clearance covers VolparaDensity version 3.1 which has been specifically designed to correlate to the new Fifth Edition of the Breast Imaging-Reporting and Data System (BI-RADS) Atlas recently issued by the American College of Radiology (ACR). The 5th Edition Atlas was updated to require "an overall assessment of the volume of attenuating tissues in the breast, to help indicate the relative possibility that a lesion could be obscured … and that the sensitivity of examination thereby may be compromised by dense breast tissue." Development of Volpara's new software included a reader study which was used to optimize VolparaDensity performance to the BI-RADS 5th Edition.
Volpara will showcase VolparaDensity 3.1 software and other new advances to its suite of quantitative breast imaging tools at the upcoming Radiology Society of North America (RSNA) meeting, November 29-December 4, 2015 (South Hall booth #2377).
Because of its volumetric approach, VolparaDensity goes beyond measurement of dense tissue area, and actually measures the compressed thickness and volume of dense tissue to truly show when small regions of "focal density" present a masking risk. VolparaDensity results have also been clinically validated in independent studies to correlate to mammography sensitivity.
Volpara has also developed a detailed discussion of the changes that have been made to VolparaDensity to reflect the new ACR BI-RADS Atlas 5th Edition including significant input from the Volpara customer base, study of the literature, reader study results, and research using in-house Volpara databases. Please contact us at info(at)volparasolutions.com to request a copy.
"This updated FDA clearance is significant as it supports the ability of Volpara to analyze breast density from both digital mammography and tomosynthesis images using the BI-RADS 4th Edition scale that radiologists are familiar with and also the new BI-RADS 5th Edition that a growing number of radiologists are migrating to," said Ralph Highnam, Ph.D., CEO, Volpara Solutions. "This is very exciting as it also comes right on the heels of an independent study recently published by researchers from the Netherlands which demonstrated that Volpara Density Grades showed substantial agreement with visual BI-RADS 5th Edition scores."
Breast density has not only been linked to an increased risk of breast cancer, it also dramatically impacts early detection. Several large studies have confirmed that as density increases the accuracy of mammography decreases. According to a study published in the New England Journal of Medicine, 35 percent of breast cancer goes undetected by mammography in women with dense breasts and density masks appearance of tumors. Since both dense breast tissue and cancer appear white on a mammogram, it is analogous to looking for a snowball in a snow storm.
Cleared by the FDA, HealthCanada, the TGA and CE-marked, VolparaDensity is in use at breast imaging centers worldwide to help radiologists objectively assess density from digital mammography and tomosynthesis images to determine which women might benefit from additional imaging. Highly correlated to breast MR assessments, VolparaDensity is a reliable tool that automatically generates an objective measurement of volumetric breast density correlated to the ACR (American College of Radiology) BI-RADS breast density categories.
About Volpara Solutions
Founded with the goal of helping radiologists give women the most accurate information possible regarding their breast health, Volpara Solutions is the wholly owned sales and marketing arm of Volpara Health Technologies Limited of New Zealand (formerly Matakina Technology). Cleared by the FDA, HealthCanada, the TGA, and CE-marked, VolparaDensity provides an objective volumetric measure of breast density from both digital mammography and tomosynthesis images. VolparaDensity is part of a suite of quantitative breast imaging tools built on the Volpara Solutions algorithm that allows for personalized measurements of density, patient-specific x-ray dose, breast compression, breast positioning and other factors designed to provide critical insight for breast imaging workflow. For more information, visit http://www.volparasolutions.com
# # #
1. Wanders, J.O.P. et al., Effect of volumetric mammographic density on performance of a breast cancer screening program using full-field digital mammography. Scientific paper presented at ECR 2015, Vienna, Austria