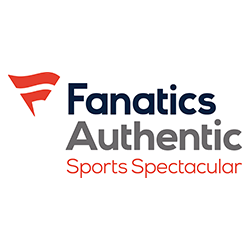 This Chicago Show in particular is even more special due to the Cubs historic run during the 2015 MLB Postseason and the large presence of Chicago Cubs on the lineup.
Fort Lauderdale, Florida (PRWEB) November 09, 2015
Fanatics Authentic is scheduled to return to Chicago for its last sports memorabilia show of 2015 on Friday, November 20th. The Donald E. Stephens Convention Center will play host to more than 90 world renowned athletes throughout the three days of events. At the Fanatics Authentic Sports Spectacular in Chicago, some of the most prominent names in sports and devoted fans will come together for a weekend of excitement.
From Friday November 20th through Sunday November 22nd, Fanatics Authentic will bring Chicago sports fans a weekend filled with events, including autograph sessions with athletes from across all professional sports. The Fanatics Show at the Donald E. Stephens Convention Center will feature signings with some of the greatest athletes to ever represent Chicago, such as Kris Bryant, Dick Butkus, Jim McMahon and Anthony Rizzo. To celebrate the city's storied baseball history, the show will also host 25 current and former Chicago Cubs players with additional appearances by Andre Dawson, Ryne Sandberg, Javier Baez, and more. In addition to the large number of Chicago sports icons, the Sports Spectacular boasts a lineup of premier athletes ranging from legends of the game to current stars. NFL icons Brett Favre and Jerry Rice, baseball superstars Albert Pujols, Carlos Correa, and Matt Carpenter, Hockey Hall of Famers Mike Richter and Gerry Cheevers, Soccer sensations Pele and Julie Johnston, former WWE wrestlers Sean Waltman, Scott Hall and Kevin Nash, and the unforgettable Bo Jackson will all be in attendance. The Chicago show is also offering rollback pricing for autographs from Jim McMahon and Mike Singletary at their price in the early years of their careers. With signings and photo opportunities throughout the weekend, fans of all loyalties will be able to get up close to their favorite sports idols and browse over 300 vendor tables for the perfect piece of sports history to bring home.
"It's always a pleasure to bring the Fanatics Authentic Sports Spectacular to Chicago because it's our largest show of the year," said Ross Tannenbaum, President of Fanatics Authentic, "but this one in particular is even more special due to the Cubs historic run during the 2015 MLB Postseason and the large presence of Chicago Cubs on the lineup."
The Fanatics Authentic Show in Chicago caters to all sports fans and collectors looking to attend by offering several ticket options. General admission is just $10 every day of the show for adults and $5 for children 10 and under, while children 3 and under are free of charge, making for a great weekend of family fun. Meanwhile, serious collectors and the most loyal fans can purchase an all-inclusive VIP package for $99. In addition to general admission for all three days of the show, the VIP experience includes 30 minutes early entry each day before the show opens to the public, an express line bracelet to reduce wait time for signings, one autograph ticket for VIP guest Frank Thomas, one random athlete autograph ticket, one random autographed 8x10 photo, and raffle tickets for the chance to win prizes. Tickets for autographs, inscriptions, and photo-ops are available to purchase for the athletes scheduled to attend. Prices vary.
For more information in regards to the November Fanatics Authentic Sports Spectacular in Chicago, visit http://www.FanaticsAuthenticShows.com. Autograph tickets, authentication vouchers, and VIP packages can also be purchased on the website or at the show, which will be located at the Donald E. Stephens Center at 5555 N. River Road, Rosemont, Illinois 60018.
About Fanatics Authentic:
Fanatics Authentic, the premier online destination for authentic autographed collectibles, is the memorabilia division of Fanatics, Inc. As the nation's largest online retailer of officially licensed sports products, Fanatics provides sports fans with the ultimate shopping experience via its brands, including Fanatics, Fanatics Authentic, and FansEdge. The company powers the online shops for all major professional sports leagues, like MLB Shop and NFL Shop, as well as media brands (FOX Sports, Yahoo! Sports, CBS Sports, NBC Sports), and over 200 collegiate and professional team properties. Fanatics also possesses official league licenses from the MLB, NFL, NBA, MLBPA, NFLPA, NCAA Football, NASCAR, CLC, PGA, NLL, and AFL.
With the support of Fanatics' unparalleled reputation as a Top 50 Internet Retailer Company, Fanatics Authentic offers sports fans a trustworthy and reliable source for authentic memorabilia. By developing exclusive athlete relationships with many of the top athletes in sports, including David Ortiz, Stephen Curry, Peyton Manning, and Kris Bryant, Fanatics Authentic boasts a product offering unlike any other manufacturer. Due to a large distribution network, Fanatics Authentic provides fast shipping to sports fans nationwide, and is on the ground, leading the way for product procurement to deliver 100% authentic items in hot markets and more.
Fanatics Authentic is proud to partake in exclusive game-used relationships with professional teams, providing fans and collectors access to same-day, game-used merchandise. These rare products are acquired by an expert member of the staff and authenticated onsite. In addition, the Company has an in-venue division that retails merchandise throughout stadiums nationwide. The Fanatics Authentic headquarters is located in Sunrise, Florida. Its 175,000 square foot facility is home to a premier custom framing, manufacturing, and engraving operation that is focused on delivering the highest quality products in memorabilia. For more information, visit: http://www.FanaticsAuthentic.com