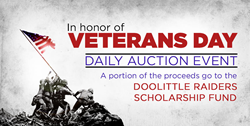 A portion of the proceeds from this one-day event to the Doolittle Tokyo Raider Scholarship Fund
Phoenix, Arizona (PRWEB) November 09, 2015
This Veterans Day, Pristine Auction remembers those who served in the U.S. Armed Forces and looks toward the future with a special, single-day sale on Wednesday, November 11. The several dozen available auction items harken back to the heroes of World War II and feature some of the greatest names from that period. In remembering the past while preparing for the future, Pristine Auction will donate a portion of the proceeds from this one-day event to the Doolittle Tokyo Raider Scholarship Fund. Each year, the fund awards a $5,000 scholarship to students pursuing a baccalaureate or advanced degree in aeronautical engineering or aerospace science.
Highlights from this Pristine Auction event reads like a "Who's Who" of historical figures from the 1940s. Naturally, General James Doolittle, a Medal of Honor recipient whose "Doolittle Raiders" conducted the first air strike on Tokyo and the Japanese islands in 1942, is represented via a cut signature as well as an 8" x 10" signed photograph. Doolittle's co-pilot, Richard E. Cole, signed a very desirable photograph picturing him receiving the Distinguished Flying Cross at Washington's Bolling Field on June 27, 1942. (This photograph is rarely found signed.) These pieces are joined by a number of other items signed by former members of Doolittle's outfit.
General Mark W. Clark, who led the Fifth Army in its capture of Rome in June 1944, and General Matthew B. Ridgway, who helped plan the Battle of Normandy, are also available to collectors in cut signature formats. There are copies of the iconic "Kissing Sailor" photo from V-J Day, as a jubilant and undoubtedly relieved sailor, George Mendonsa, grabbed nurse Greta Friedman in the middle of Times Square and kissed her hard on the mouth. The image is considered a defining image of the war, but it was many years before the kisser and "kissee" were identified. This example has been autographed by both subjects! One of the more unique pieces is a U.S. Marine Corps WWII 1:4 scale combat helmet, signed by Herschel W. Walker, who was awarded the Medal of Honor for his heroic actions in the Battle of Iwo Jima. Williams, who almost single-handedly destroyed a number of Japanese strongholds on the Pacific island, is the last surviving Medal of Honor recipient from that horrific 1945 battle.
This auction is replete with other, more somber mementos from the war, including a cut signature from Paul Tibbets, pilot of Enola Gay, the B-29 Superfortress that dropped the first atomic bomb on Hiroshima, Japan, on August 6, 1945. (Like the rest of his generation, Tibbets spent the rest of his life avoiding calling himself a hero, instead saying he was a soldier who did what he asked to do … end the war). Also presented is a 16" x 20" image of the "Little Boy" atomic bomb, signed by Enola Gay navigator Theodore "Dutch" Van Kirk. This particular photograph was one of the last images that he was able to sign before his 2014 death. Van Kirk had only autographed a few of this oversize photo, making it a desirable collectible.
Of course, men were not the only ones who made sacrifices during the war. A select group of more than 1,000 female pilots — a group that came to be known as the Women Airforce Service Pilots (WASP) — became the first women in aviation history to be trained to fly U.S. military aircraft. Although they were considered civilians, these women participated in numerous flight-related missions. The WASPs used the Walt Disney-created female gremlin, Fifinella, as their mascot and unit patch. An 11" x 14" image of Fifinella has been signed by five WASP pilots, including two who witnessed President Barack Obama signing an order awarding the Congressional Gold Medal to the WASP pilots for their service.
This one-day Pristine Auction event features many of the names and places that are etched in history. Men and women who heeded the call of duty, leaving their families to fight in wars a world away … because that's what they were asked to do. Pristine Auction is proud to honor all those who have served in uniform, and proudly offers pieces of their history to collectors this Veterans Day.