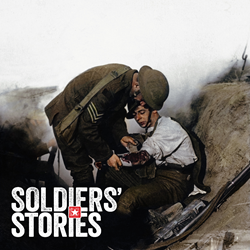 "Most people have no idea what WW1 was about or what it was like for the people who fought and died there. It is time to correct that, and perhaps Virtual Reality is the vehicle to make that happen." - Nick Reed
Los Angeles, CA (PRWEB) November 09, 2015
Just in time for Veterans' Day and the NY Times' unprecedented Google Cardboard release, there is now a VR experience of WW1 available. The VR film, titled "Soldiers' Stories", features narration by Academy Award winner Mickey Rooney and the Academy Award-winning production team of Nick Reed and Jonathan Kitzen. Set in the trenches of WWI, the film uses restored original stereoscopic images taken over 100 years ago to tell the story of the bloodiest battle in human history, the Battle of the Somme, from the perspective of the soldiers who fought it. "This is an epic film about epic engagement, so what better way to see it than in its original 3D glory and with the immersive quality that only virtual reality can bring," said Nick Reed, of Kallisti Media producer of the film.
While most people think James Cameron invented 3D with the film Avatar, in reality 3D goes all the way back to the 1840's. When WW1 broke out there were thousands of 3D images taken by all sides. The trick was finding and restoring them. The filmmakers were able to locate over 9,000 images by enlisting the help of a network of private collectors who had a treasure trove of original images never before seen by the public. In the end, the process took over two years and thousands of hours.
Although the film is a series of technological firsts, one of the biggest hurdles was figuring out how to tell intimate veteran stories without resorting to actors reading diaries, in the style of Ken Burns. "When making the film we wanted the story to be personal, but the last of the WW1 vets died in 2011, and I wanted to create something different to the Ken Burns documentary," explains the film's director Jonathan Kitzen. In the end the novel solution was to have veterans of the Iraq and Afghanistan wars speak of their own personal experiences in battle and, in so doing, intertwine past and present through the timeless accounts of the soldiers. "There is not much difference in the experience of being a soldier back then or today," says Kitzen. "For the film we just removed the parts where the soldier said 'Iraq'." The result is a film that explores the emotional experience of war from the "grunt's" perspective. It relates the intimate war lived by each soldier, not the blood guts and glory version of the larger political and social scene.
Kitzen --a bit of a tech nerd with a tech company and a background building gear and creating code to facilitate stories-- built a completely custom tool kit for converting the film to Stereoscopic VR. It worked so well that he spun it off into its own company: ConVRter, based in Vancouver, Canada. ConVRter was the recipient of a 2014 National Research Council of Canada technology grant for its work, which helped to make the film and the technology possible.
When people think of Virtual Reality they most often think of something modern, but with Soldiers' Stories audiences can now step into the world 100 years ago and get a personal experience for their mobile device via Google Play, Vimeo, and the iTunes store (visit http://www.ConVRter.net for links) and for all formats from Cardboard VR to Gear VR and Oculus. "I hope that VR can be more than just a game," said Kitzen, "because it has the potential for so much more."
"We wanted to give something back," explained Reed, "and WWI seems to have been mostly forgotten even though Veteran's Day was created to commemorate the tragedy that was WWI. Lest We Forget, they said. But today, most people have no idea what WW1 was about or what it was like for the people who fought and died there. It is time to correct that, and perhaps Virtual Reality is the vehicle to make that happen."
For more information visit:
http://conVRter.co/