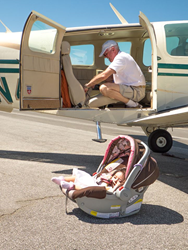 Sometimes the road to health, is a runway...
Santa Monica, CA (PRWEB) November 08, 2015
Angel Flight West (AFW) is a nonprofit, volunteer-driven organization that arranges free air transportation so children and families in need can get to their medical appointments and other essential services. Since 1983, AFW has provided flights of health and hope throughout the 13 western states, courtesy of 1,600+ volunteer pilots and a cadre of commercial airline partners. Pilots and partners donate their aircraft, time, and all related costs.
Most AFW passengers need assistance because of a personal, financial hardship to their family, or because they live in remote areas where treatment isn't available. And the flights are free. There's never a charge for an Angel Flight West mission.
Last year, thanks to the generosity of donors, AFW raised $50,000 through Indiegogo, enough to provide 230 flights for children in need of health and hope. They hope to exceed that this year by partnering with Indiegogo.com to embark on a crowdfunding campaign, which launched on November 2nd: http://igg.me/at/AFW2015
"This is all about helping those families that could not otherwise access critical medical services without us. Of course, we want to add the 'fun' to fundraising while we do it, so we've got some cool perks, too." said AFW Executive Director, Josh Olson. "Last year, the president of Disney's Hollywood Music, Ken Bunt, donated a wonderful Disney basket , which sold immediately. And he's sent us another one this year, along with some signed, limited edition Disney lithographs. Oscar nominated screenwriter Chris Wilkinson (Ali, Nixon) is offering two lucky donors an hour of his time to critique a pitch -- for film, TV or other. In addition, legendary producer (and AFW pilot) Mark Wolper has again offered to listen to pitches from his office on the Warner Bros lot, and director Brian Herzlinger will invite a donor to shadow him on a film he's shooting in 2016."
"Seeing children and their families suffer is the most difficult part of our job, so we want to help as many families who turn to us as we can. Fundraising is vital to our existence, and like many non-profits, we need to raise funds and awareness all the time. Indiegogo.com allows us to do both, and on a global platform." said Stephen Danz, AFW's Chairman of the Board.
"We are a grassroots organization,' adds Josh Olson, "and we run on the generous volunteer work of our awesome pilots and the dedication of our staff. Every dollar raised goes towards bringing one more child the service they desperately need."
Angel Flight West's 2nd Annual Indiegogo Fundraiser launched on November 2, 2015 and culminates on Giving Tuesday. Please support. If you can't donate at this time, please "like" them on Facebook, "share" the campaign posts, and follow them on Twitter @Angelflightwest. If you want to find out more about the life-saving work Angel Flight West provides, or about ways in which you can get involved, please email them at Kerryd(at)angelflightwest(dot)org or visit their website http://www.angelflightwest.org.
#HaveYouHelpedAnAngelToday?
###