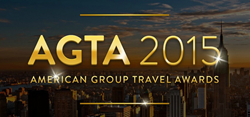 These awards represent not only unwavering dedication of leading group travel organizations, but have also impacted the continuous growth of group travel by providing the finest experiences
New York, NY (PRWEB) November 10, 2015
HotelPlanner.com, the largest provider of online group travel services, announced today the winners and runner-ups of the 2015 American Group Travel Awards (AGTA), recognizing leading suppliers and organizations in the North American group travel sector.
A celebratory night filled with excitement and surprises, the second annual event was held on November 9th at the Diamond Horseshoe Theatre in the Paramount Hotel, where the winners and runner-ups were announced. Twenty awards were presented honoring the best of the best group travel operators from top hotels, cruises, ground transportations, airlines, and more.
"These awards represent not only unwavering dedication of leading group travel organizations, but have also impacted the continuous growth of group travel by providing the finest experiences," stated HotelPlanner CEO Tim Hentschel.
The host for the evening's festivities was none other than Dylan Ratigan, former CNBC Television News Journalist, MSNBC Television Host, Documentary Film Producer, and New York Times Best-Selling Author. Premiere entertainment for the awards show was provided by DJ Dalton, one of the top DJs and native to New York City, as well as enchanting, live acrobatic performances from Queen of the Night.
Attended by more than 300 industry professionals, organizations, and publications from across North America, the American Group Travel Awards has helped shine a light of their own for the group travel industry.
Congratulations to the 2015 American Group Travel Award Winners and Runner-ups!
Best Group Hotel Brand - Full Service
Winner: Hilton Hotels & Resorts
Runner-up: InterContinental Hotels & Resorts
Best Group Hotel Brand - Limited Service
Winner: Best Western Hotels & Resorts
Runner-up: Holiday Inn Express
Best Group Hotel Brand - Luxury
Winner: Waldorf Astoria Hotels & Resorts
Runner-up: The Ritz-Carlton Hotel Company
Best Group Hotel Brand - Boutique
Winner: W Hotels
Runner-up: Kimpton hotels & restaurants
Best Leisure Group Hotel Brand
Winner: Holiday Inn
Runner-up: Comfort Inn & Suites
Best Sports Team Travel Hotel Brand
Winner: Quality Inn
Runner-up: Holiday Inn Express
Best Group Casino Hotel
Winner: Bellagio Las Vegas
Runner-up: Caesars Palace Las Vegas
Best Airline for Group Travel
Winner: United
Runner-up: Delta Air Lines
Best Cruise Line for Group Travel
Winner: Carnival
Runner-up: Royal Caribbean International
Best Independent Hotel Brand
Winner: Loews Hotels • Resorts
Runner-up: Ayres Hotels
Best Live Stage Performance for Groups
Winner: The Phantom of the Opera
Runner-up: Cirque du Soleil
Best Theme Park for Groups
Winner: Universal Orlando
Runner-up: Disneyland Park
Best City Destination for Groups
Winner: Las Vegas
Runner-up: Washington, DC
Best Beach Destination for Groups
Winner: The Island of O'ahu, Hawaii
Runner-up: Cancun, Mexico
Best State for Group Travel
Winner: New York
Runner-up: California
Best Online Travel Agency (OTA) for Group Travel
Winner: Hotels.com
Runner-up: Expedia
Best Group Shopping
Winner: Miracle Mile Shops at Planet Hollywood Resort & Casino
Runner-up: Mall of America
Best Group Ground Transportation and Tours
Winner: SuperShuttle
Runner-up: BusBank
Best Golf and Spa Resort for Groups
Winner: Streamsong Resort • Golf • Spa
Runner-up: The Breakers Palm Beach
Best Extended Stay Brand
Winner: Hawthorn Suites by Wyndham
Runner-up: Cambria hotels & suites
To find out more information about AGTA, please contact Bruce Rosenberg at (818) 661-0244 or via email at Bruce(dot)Rosenberg(at)americangrouptravelawards(dot)com.
About HotelPlanner & Meetings.com
HotelPlanner.com provides online services to the global group hotel market. The company's service ensures the lowest rates by allowing customers to receive quotes online directly from hotel group sales managers. HotelPlanner allows customers to book hotels for business meetings, conferences, conventions, family reunions, weddings, extended stays, tours, military reunions, church events, and group travels. The company also provides mobile applications for booking group hotel reservations. The company owns and operates Meetings.com, a site that provides information and booking services for group, meeting, and individual hotel stays for the corporate and business to business enterprises. Founded in 2002, the company has offices in West Palm Beach, FL (USA Headquarters); Las Vegas, Nevada; London, England, (European Headquarters); and Hong Kong (Asia Headquarters).