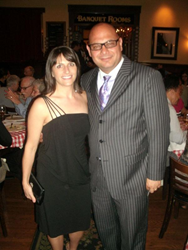 "SKA LAW GROUP Philadelphia is doing extremely well, and a lot of that has to do with our work out in the counties."
Philadelphia, Pennsylvania (PRWEB) November 11, 2015
The new office will accommodate existing clients and new clients that reside outside of the Center City Area; and will focus on criminal law and personal injury law in the Bucks County, Montgomery County, and Northeast Philadelphia. Philadelphia Criminal Lawyers Amato T. Sanita, and Michael N. Kotik are proud to announce their new venture, and are eager to bring that center city aggressive trial advocacy to the suburbs.
Attorney Amato T Sanita has had an incredible career in Philadelphia, representing clients in all areas of criminal law, including drug cases, gun cases, assault cases, and even homicides. Mr. Sanita is excited to bring his hard-hitting litigation skills to the suburbs. Mr. Sanita has actually handled an astronomical amount of cases in burbs, but with the new suburban office presence he truly believes individuals will now have access to a large city style attorney in their backyards.
"SKA LAW GROUP Philadelphia is doing extremely well, and a lot of that has to do with our work out in the counties. Therefore, it made perfect sense for us to open our first suburban location," said Sanita. "I feel that this will definitely be one of many that we intended to open in the next few years. However, this location will be our first step in launching our presence in Bucks County, Montgomery County, and the Great Northeast," expressed Amato Sanita.
Attorney Michael Kotik has represented clients arrested in Bucks County, and Montgomery County for several years. Attorney Kotik is eager to launch SKA's second office with his partner Amato T. Sanita in his old home town of Feasterville, Pennsylvania. This office will offer many opportunities for individuals seeking counsel from a center city attorney without having to drive all the way down to the city. Furthermore, as SKA begins to expand this will allow for other opportunities to become apparent for other lawyers, paralegals, and administrative staff looking to grow.
"I like the idea that individuals can now have access to us without having to driving down to the city. I think this will allow people with legal issues who are looking for a different type of representation to have access to different types of lawyers," said attorney Kotik. "Furthermore, with this expansion, this will allow us to provide my home town with job opportunities; and frankly I love the idea of giving back," said Kotik.
The new SKA LAW GROUP, LLC location opened its doors on November 1st, 2015. The address is 2 PARK LANE, SUITE 107, FEASTERVILLE, PA 19053. The office will be used to help cater to individuals and clients 24 hours a day, 7 days a week. SKA LAW GROUP, LLC Bucks County location shall focus on Criminal Law and Personal Injury.
SKA LAW GROUP, LLC., lawyers are available 24 hours a day, 7 days a week. They can be reached by calling 267-265-4553; or 267-738-7766. To check out some of their most recent results go to http://www.legalphilly.com/cases.php; or check them out at http://www.Legalphilly.com