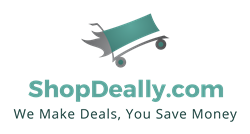 We do the negotiating for the best prices out there so our customers get the deals they deserve.
(PRWEB) November 12, 2015
ShopDeally, a new, intuitive e-commerce site is pleased to announce the launch of their online marketplace, ShopDeally.com. ShopDeally makes the customer's shopping experience quick and stress-free with its easy-to-navigate website featuring high-resolution photos, product reviews, and drop-down categorical menus. ShopDeally also works to ensure the lowest prices for brand name items with support teams standing by to provide outstanding customer service to shoppers.
ShopDeally offers the lowest prices compared to other online retailers on brand name items in beauty, accessories, electronics, children's toys, and more with free shipping on orders over $99. The website also allows users to read product reviews prior to purchase and write reviews after receiving their items. Unlike other online shopping outlets, with ShopDeally.com customers will never be bogged down by a slow website or complicated checkout procedure. Thanks to the site's convenient and simple interface, clients can easily browse items, make their selections, and checkout with just a few clicks of a button.
Powered by BigCommerce shopping cart, ShopDeally ensures its customers that their shopping experience is safe and secure, helping buyers feel confident about purchasing the best deals from an industry-leading, trusted site. Clients can also keep their information on file to make checking out easier, file multiple shipping addresses, and track their orders during shipment.
"We do the negotiating for the best prices out there so our customers get the deals they deserve," says founder and CEO of ShopDeally, Titi Sonekan. "Customers can feel good about their savings without leaving the comfort of their home."
ShopDeally's mission is to deliver the most compelling and convenient shopping experience to customers. Please visit http://www.shopdeally.com to browse its extensive list of products and affordable pricing.
Follow us on Facebook and Google+
About ShopDeally
ShopDeally is one of the leaders in online retail outlets. Through negotiations with suppliers across the globe, ShopDeally does the grunt work for customers to ensure they find the best prices possible. The company strives to make online shopping fast and easy for those who don't have the time to hunt for deals on their own. We Make Deals. You Save Money.