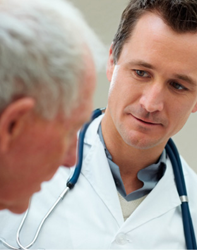 Our findings do not support the routine use of hemithoracic radiotherapy for malignant pleural mesothelioma...
Raleigh, NC (PRWEB) November 09, 2015
European researchers say radiation treatment after extrapleural pneumonectomy (EPP) for mesothelioma is unlikely to help most mesothelioma patients. Click here to read the full article on the new research on the Surviving Mesothelioma website.
The new study conducted by scientists in Switzerland, Belgium, and Germany involved 113 mesothelioma patients from 14 different hospitals. Patients had chemotherapy followed by lung-removing EPP surgery. Half of those whose tumors were removed successfully then had radiotherapy while the other half did not.
According to the report in The Lancet Oncology, the radiotherapy group of mesothelioma patients survived only two months longer than the non-radiotherapy group and had some serious complications.
"Our findings do not support the routine use of hemithoracic radiotherapy for malignant pleural mesothelioma after neoadjuvant chemotherapy and extrapleural pneumonectomy," concludes study author Rolf Stahel, MD, a molecular biologist in the University Hospital of Zurich.
"Like other types of mesothelioma treatment, radiotherapy carries its own set of serious side effects and potential complications," says Surviving Mesothelioma Managing Editor Alex Strauss. "This report may help patients and doctors more accurately weigh the benefits and risks when deciding on a course of care after mesothelioma surgery."
Details of the Phase II clinical trial and its findings are now available on the Surviving Mesothelioma website in an article entitled Radiation Treatment After Mesothelioma Surgery: Is it Worth It?
Stahel, RA, et al, "Neoadjuvant chemotherapy and extrapleural pneumonectomy of malignant pleural mesothelioma with or without hemithoracic radiotherapy (SAKK 17/04): a randomised, international, multicentre phase 2 trial", October 30, 2015, The Lancet, Oncology, Epub ahead of print, http://www.thelancet.com/pdfs/journals/lanonc/PIIS1470-2045(15)00208-9.pdf
For nearly ten years, Surviving Mesothelioma has brought readers the most important and ground-breaking news on the causes, diagnosis and treatment of mesothelioma. All Surviving Mesothelioma news is gathered and reported directly from the peer-reviewed medical literature. Written for patients and their loved ones, Surviving Mesothelioma news helps families make more informed decisions.