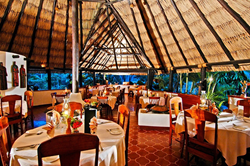 We wanted to do something special that would be affordable and fun for entire families, or as a perfect romantic getaway for couples
San Ignacio, Belize (PRWEB) November 09, 2015
In a new addition to its annual month long Thanksgiving celebration, The Lodge at Chaa Creek has just added a surprise one-day all-inclusive Belize vacation package for November, according to the Belizean eco-resort's food and beverage manager.
Bryony Bradley said that the heavily discounted offer is Chaa Creek's way of saying "thank you" while introducing more people to new directions in the resort's restaurants.
"For over thirty years Thanksgiving has been one of our favourite celebrations, and this year we've been fortunate to have internationally renowned Chef Edward Mendoza take the reins in our kitchens to create new menus while mentoring our cooks at both Chaa Creek and the Guava Limb Café in San Ignacio Town.
"We're so pleased with the results so far that we're offering a specially discounted one day package throughout our 'Thanksgiving Month of November' to say 'thank you' to our many friends and introduce travellers to our expanded farm-to-table dishes," she said.
"It's the perfect way to enjoy great food, wonderful company, exciting activities, and everything Chaa Creek has to offer for one very affordable set price. People will need to act quickly, but I'm sure they'll find that it's well worth it," she added.
Ms Bradley said that the Thanksgiving in Belize all-inclusive one day package includes eco-luxe cottage accommodation with free upgrades when available, full breakfast, canoeing on the Macal River, guided birding expeditions and tours of the Belize Natural History Centre, butterfly farm and Maya medicinal plant trail, and use of the infinity pool and other amenities within the resort's 365 acre private nature reserve.
"We wanted to do something special that would be affordable and fun for entire families, or as a perfect romantic getaway for couples. It's a great day out, followed by a peaceful night listening to the gentle sounds of birds and jungle wildlife," Ms Bradley said.
Ms Bradley said the new offer reflects the growing number of North Americans coming to Belize for Thanksgiving, and the rising interest in farm-to-table dining.
"With more families and couples using traditional holidays to take the time to share new experiences and adventures together, Belize, being so easy to reach from North America and having its own Thanksgiving traditions, has become an attractive Thanksgiving destination.
"We're also celebrating the growing acceptance of farm-to-table dining, reducing food miles and rediscovering traditional sustainable farming practices. For years we've been working to highlight the relationship between farmers, ancient Maya farming methods, and high quality, creative preparation in the food we serve. We're very fortunate that star Chef Edward Mendoza, who has a very impressive history and more recently opened CUCINA 503 in Augusta, Georgia, shares our philosophy and has been taking our kitchens to new levels.
"By offering an all-inclusive Belize vacation package for under a hundred and thirty dollars, we're hoping to educate more people about not only Belize and Chaa Creek, but new, sustainable approaches to fine dining.
"It's all part of our drive to prove that responsible tourism and Green, environmentally sustainable practices don't need to come at a cost to quality or enjoyment.
"It's also our way of giving thanks, and we hope to see old and new friends joining us throughout November," Ms Bradley said, and she encouraged people to contact their travel agents or visit Chaa Creek's website to learn more.
The Lodge at Chaa Creek is a multi award winning eco resort set within a 365-acre private nature reserve along the banks of the Macal River in Belize.
ENDS