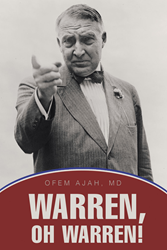 It was the publication of Harding's love letters to his best friend's wife that aroused my interest in his presidency
NEW YORK (PRWEB) November 09, 2015
In the current presidential race every candidate is under a microscope. With social media at everyone's fingertips, candidates must work extra hard to keep their personal lives private. However, in 1921 President Warren Harding was able to get away with much more than the public was aware of. In his new political drama, "Warren, Oh Warren!," author Ofem Ajah tells the untold story of the affairs, murders, and inner circles associated with President Harding.
Warren Harding served as the 29th President of the United States from 1921 until his death in 1923. Although Harding died as a rather popular president, the exposure of scandals that took place under him began to diminish his popularity. "Warren, Oh Warren!" tells the heated story of the affair that took place between President Harding and his best friend's daughter, Nan Britton.
Before moving to America author Ofem Ajah was born, raised and educated in Nigeria. Ofem moved to America to further his education in medicine. When he is not practicing medicine, Ofem is an avid news junky. His international background paired with his enthusiasm for news gives him a unique perspective on politics.
"I love politics," said Ofem Ajah. "It was the publication of Harding's love letters to his best friend's wife that aroused my interest in his presidency."
In this historical drama readers will discover how presidential candidates can succumb to the same pressures as the rest of society as "Warren, Oh Warren!" discloses real scandals that took place behind closed doors.
For more information, visit http://www.lulu.com
"Warren, Oh Warren!"
By Ofem Ajah
ISBN: 978-1-4834-3592-3
Available in softcover and e-book
Available on Amazon, Barnes & Noble and Lulu
About the author
Ofem Ajah, MD, was born and raised in Nigeria. He graduated from the University of Ilorin medical school in 1984. He currently practices medicine at Methodist Hospital in Brooklyn, New York.
**FOR IMMEDIATE RELEASE**
For review copies or interview requests, contact:
Megan Hardesty
812.322.1569
mhardesty(at)bohlsengroup(dot)com