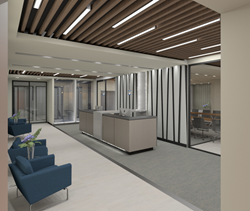 Most importantly, we help mitigate the challenge of high rent for new and growing businesses. Creating opportunities for small businesses to thrive is at the heart of our mission.
New York, NY (PRWEB) November 09, 2015
Jay Suites announced today that they have inked a lease for another 23,000 square feet to their furnished, serviced office space location at 1441 Broadway. The additional space in their growing portfolio makes Jay Suites the second largest tenant in this Times Square mega building. The expansion is the second to their Madison Avenue center addition earlier this year.
"It can be very challenging to expand in a market where rents are so high," said COO Jack Srour. "It's because we have a great relationship with the building's management that Jay Suites can continue to grow. Most importantly, we help mitigate the challenge of high rent for new and growing businesses. Creating opportunities for small businesses to thrive is at the heart of our mission."
Jay Suites has seven flexible office space locations for small and growing businesses that offer flexible turn-key office suites, virtual offices, state-of-the-art conference rooms that can be rented by the hour, day or week, and a rooftop terrace for events. Their vision for flexible office space has gained significant momentum since their start. Jay Suites' concept provides fully furnished, serviced office space, ideal for start-ups, multi-city organizations, and entrepreneurs. Centers boast fully-equipped conference rooms, stocked kitchens and hot spots, full time receptionists and managers, state of the art technology, luxurious furniture and all the amenities to be expected in first class offices. They are currently the third largest office suite provider in New York.
1441 Broadway is currently undergoing a twenty million dollar renovation of its façade. Once completed, the building will be renamed 10 Times Square. As with all their other locations, Jay Suites builds out their office spaces to save their members money, time and create scalable solutions for new and growing companies. The additional space will feature a 30-person conference room, a business lounge, and 74 fully furnished offices. Rick Dolittle of Murray Hill Properties negotiated the deal on behalf of both the landlord and the Srour brothers.
Juda Srour noted that Jay Suites would be expanding once again in Spring 2016. "We're in talks to open a 60,000 square foot waterfront property in DUMBO. We are excited to offer our services to the creative community in Brooklyn."
Jay Suites occupies prime office space in all of Manhattan's most important districts for work and commerce. They include:

30 Broad Street, 14th Floor (Financial District)
369 Lexington Avenue, 2nd & 3rd Floors (Grand Central)
1370 Broadway, 5th Floor (Penn Station)
1441 Broadway, 3rd, 5th and 6th Floors (Times Square)
31 West 34th Street, 7th & 8th Floors (34th Street)
2 West 46th Street, Mezzanine Floor (Fifth Avenue)
315 Madison Avenue, 3rd and 4th Floors
About Jay Suites
Jay Suites is a hub for New York City entrepreneurs looking to simply work better. The firm offers flexible, luxury office spaces, virtual office plans and on-demand conference rooms. The firm specializes in full-service executive suite spaces with all-inclusive pricing; their short and long-term solutions accommodate a variety of businesses across the spectrum, from lawyers and financial managers to entrepreneurs and Fortune 500 companies. All Jay Suites offices are furnished, elegantly designed and come equipped with state-of-the-art technology, resources and support. In addition, members join a growing community with perks such as exclusive access to our members-only meet ups. Jay Suites also offers virtual office plans & meeting room and day office rentals on a per hour or day basis. For leasing inquiries, please call (212) 569-9000 or visit http://www.jaysuites.com.