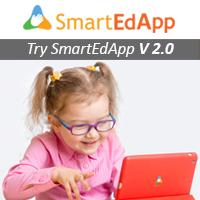 "As part of our introduction of SmartEdApp Version 2.0, we are offering a free license for the 2015-2016 school year to special education teachers," - Pradeesh Thomas
Sunnyvale, California (PRWEB) November 20, 2015
SmartEdTech, a company dedicated to transforming special education, released Version 2.0 of its popular SmartEdApp this week. "We are proud to be able to link student IEP goals directly to learning activities in the classroom, to give special education teachers and therapists instant feedback," reported Pradeesh Thomas, CEO. "With such instant feedback a teacher or therapist can make immediate corrections or adjustments to a student's Individualized Education Plan, resulting in the student's achieving his/her IEP goals faster."
Thomas explained how it works. As a child uses the educational activities in the app, performance is automatically tracked. Teachers, therapists and aides monitor a child's progress, assess when he is ready for new challenges, and change the activities immediately - even during the middle of class.
"With its fast and streamlined User Interface, efficient tracking system and reporting functions, and ever expanding number of learning activities, SmartEdApp provides a great educational experience for students, teachers and therapists," explained Katherine Page Burdick, educator and part of the development team. "The app is a learning management system for educators, while providing fun and games for children at the same time."
"As part of our introduction of SmartEdApp Version 2.0, we are offering a free license for the 2015-2016 school year to special education teachers," added Thomas. "Educators can find out more about the app and register for the free download on our Website. This new version is too exciting not to share!"
SPEDK12, SmartEdTech's parent company located in Sunnyvale, California, focuses on innovative solutions for the needs and concerns of Special Ed providers including teachers, administrators, therapists and parents. The company pioneered the use of software-based technology housed on an Android tablet that is being used by hundreds of specialists in the US. Under the banner of SmartEdTech,similar technology has been developed for use on iOS tablets.
Find out more about SmartEdApp at http://www.smartedtech.com. Connect with the company on Facebook, Twitter, LinkedIn, Pinterest, YouTube