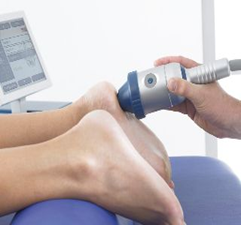 New York, NY (PRWEB) November 09, 2015
Rehabilitation begins with understanding and assessing problems associated with tendon pain and developing a therapy plan enabling a patient to return to normalcy.
Tendinitis or Tendinosis. Whether we speak of reinforcement bands in concrete or connecting bands linking muscle and bone, the key concept of tendon is the linking activity of the structure. MRI and ultrasound reveal dense fibrous tissue serving this linkage purpose. When the body detects damage within a tendon, the body responds with warmth, swelling, and soreness, i.e., immune system activity. When the body no longer pursues tendon repair, the result is tendinosis--tissue, blood supply, and nerve innervation modifications within the damaged tendon.
Sites Involved.Running injuries happen. Foot pain and heel pain result in questions like how to treat achilles tendonitis, what is achilles tendinitis, and where to go for heel pain treatment. A compendium of terms are used to discuss the same heel pain or achilles problem. The major sports injury relates to running injuries associated with achilles tendon injury. The initial injury is achilles tendonitis (aka achilles tendinitis). The chronic malady is achilles tendinosis. The generic term is achilles tendinopathy.
Therapeutic achilles tendonitis treatment begins with assessment of achilles tendonitis symptoms, e.g., heel pain, an inflamed achilles tendon, etc.) and development of an achilles treatment management plan resulting in achilles tendonitis exercises, e.g., achilles tendon stretches, or special prostheses, e.g., shoes for achilles tendonitis or "running pain."
Surgical managements include achilles tendon repair, achilles tendon rupture, achilles tendon tears, etc.
Injury. Structures stressed beyond their design limits fail. That is why reinforced concrete will crack and break with overload. Tendons fail when load exceeds operational specifications. Fibers breakdown where tendon structures are weakest, typically where tendon meets bone or in the tendon's central components. Breakdown relates to acute stress or repetitive stress. Successful management of tendon injury is dependent on lesion site. Pain does not always correlate with site or degree of injury.
Presenting Complaints. When tendons are damaged, people hurt, but degree of discomfort and pain are somewhat age-dependent. Damage observed clinically may be assigned to a point on a continuum, with no clinically significant damage on one end and progression to major structural damage on the other.
Reactive tendinopathy is the body's attempt at self-healing through tendon thickening and stiffening to alleviate stresses. When stress is relieved, body repair is reversed and the tendon reverts to normalcy. The process can be readily imaged with MRI or ultrasound. Younger athletes more commonly experience reactive tendinopathy, particularly when they move from sedentary lifestyle to vigorous training.
Tendon disrepair occurs when the body's attempt at self-healing fails. The body initiates repair of tendon fibers but accompanying vascular and neuronal repair fails to ameliorate fiber failure. Neovascularization is the result, i.e., the misdirecting of nerve and vascular nourishment in those tendon fibers. Tendon disrepair occurs in all ages where tendons are overdriven on a chronic basis generating scarring and thickening on MRI and ultrasound.
The next point on the continuum moving toward major tendon damage is degenerative tendinopathy, characterized by support-structure matrix changes involving cell deterioration and necrosis, disordered tendon fibers, neovascularization, and disorganized breakdown as seen in older athletes and in young people with chronic abuse of tendons. Untreated degenerative tendinopathy results in tendon rupture.
Prevalence and Incidence. Competitive sports in the spring and summer are associated with achilles tendon problems, primarily in men (over 80% in one study) with an average age in the mid-40s. Problems in one leg raise the likelihood of damage in the other limb within five years. Basketball accounted for half of those cases needing achilles inflammation management. Football and tennis together accounted for about a quarter of these sports injuries.
Evaluation Strategy. Over three-quarters of these tendon issues relate to running activities. The New York Dynamic Neuromuscular Rehabilitation & Physical Therapy Clinic, utilized a best practices approach to establish its Running Diagnosis Gait Laboratory with the specific purpose to specify and quantify functional limitation and disability, define functioning motor deviation, establish specific site of pain and motor-neurologic dysfunction, and differentiate motor compensation behaviors with respect to specific etiologies. Diagnostic Ultrasonography contributes to refinement of rehabilitation strategy.
Gait Analysis and Other Evaluation Methodology. This laboratory's gait analysis protocol measures impairment, but it also specifies where the tendon failure is, establishes a reference point for therapy focus based on observed running style, suggests alternative running strike patterns, etc. Physical and imaging technology are integrated together with gait analysis data to establish appropriate integrated therapies, e.g., Physical Therapy, Chiropractic, Acupuncture, Apos Therapy, Dynamic Neuromuscular Stabilization, Computer Assisted Rehabilitation Environment, Extracorporeal Shockwave Therapy (aka ESWT), Postural Reeducation and Treatment, Trigger Point Therapy, Vojta Therapy, Therapeutic Pilates, Neurorehab, etc.
Accessing Habilitative and Rehabilitative Service. Assessment and therapy plans can be accessed at New York Dynamic Neuromuscular Rehabilitation & Physical Therapy, located at 130 West 42 Street, Suite 1055, New York, NY 10036. It can be reached by telephone (1-866-938-7779) or via email (info(at)nydnrehab(dot)com). http://nydnrehab.com/