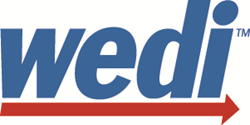 I am deeply honored and very grateful and humbled to receive this prestigious award from WEDI – both for what it represents, but especially for the person it is named after," said Dr. Suarez
RESTON, Va. (PRWEB) November 09, 2015
The Workgroup for Electronic Data Interchange (WEDI), the nation's leading authority on the use of health IT to create efficiencies in healthcare information exchange, announces the 2015 recipient of its 2015 Sullivan Award. Walter G. Suarez, MD, MPH, Executive Director of Health IT Strategy and Policy of Kaiser Permanente was presented the award at WEDI-Con 2015 in Reston, Va. on Wednesday, October 28. Chosen by the WEDI Board of Directors, this award recognizes Suarez's continuing efforts in advancing the efficiency of healthcare.
"I am deeply honored and very grateful and humbled to receive this prestigious award from WEDI – both for what it represents, but especially for the person it is named after," said Dr. Suarez. "I have known Dr. Sullivan since his days as HHS Secretary. His work and his life truly inspired me throughout my 30-year journey in clinical care, public health, health care administration and health information technology. A journey pursuing a health care system that is more equitable, efficient and effective in addressing the needs of individuals and the population at large."
The Sullivan Award is named in honor of former HHS Secretary, Louis W. Sullivan, MD who created WEDI in 1991. On behalf of its members, WEDI has spearheaded the healthcare industry's ongoing collective commitment to improve the quality, efficiency and cost-effectiveness of personal healthcare through the development and implementation of standards for administrative simplification.
The award was first presented to Dr. Sullivan in 2001 and recognizes individuals who have distinguished themselves through their leadership, vision and achievements in advancing the overall quality and efficiency of healthcare. Dr. Suarez will join a notable group of industry leaders that have received the award since 2001, which includes George Halvorson, former CEO of Kaiser Permanente; Michael Leavitt and Tommy Thompson, both former secretaries of the U.S. Department of Health and Human Services; Newt Gingrich, founder of the Center for Health Transformation; John Halamka, M.D. chief information officer, Beth Israel Deaconess Medical Center and Harvard Medical School; Jon Zimmerman, General Manager, Clinical Business Solutions at GE Healthcare and Lorraine Doo, Senior Policy Advisor at the Centers for Medicare & Medicaid Services.
"Walter has been a long-time advocate of innovation surrounding health IT, as well as a long-time active member of WEDI," said Devin Jopp, Ed.D, President and CEO, WEDI. "We value his commitment to working together to advance the health IT industry, and appreciate all he has done throughout his distinguished career."
Dr. Suarez is a physician and a public health and medical information systems specialist, and the Executive Director of Health IT Strategy and Policy for Kaiser Permanente, where he is responsible for facilitating the development of Kaiser Permanente's internal and external Health IT-related policies and providing national and international leadership and expertise on health IT-related domains, including standards for electronic health records, health care administrative processes, privacy and security, and health information exchanges, on behalf of Kaiser Permanente.
Before joining Kaiser, Dr. Suarez was the President and CEO of the Institute for HIPAA/HIT Education and Research. Prior to this he was the CEO of the Midwest Center for HIPAA Education and before that the Executive Director and CEO of the Minnesota Health Data Institute. He also worked for the Minnesota Department of Health in various senior policy positions.
In 2009, Dr. Suarez was appointed by the US Secretary of Health and Human Services (HHS) to serve in the prestigious National Committee on Vital and Health Statistics (NCVHS), the oldest advisory committee to HHS. Between 2009 and 2014, he served as co-chair of the Standards Sub-Committee and member of the Population Health and the Privacy and Security Sub-Committees. In 2015, Dr. Suarez was appointed the Chair of NCVHS.
Dr. Suarez earned his medical degree from the Colombian School of Medicine and his Master in Public Health from Tulane University. He has been the recipient of numerous regional and national awards, including the Minnesota Physician's "Most Influential Health Care Leaders" in 1997 and 1998, the WEDI 2004, 2006 and 2007 Distinguished Service Award and the first recipient of WEDI's prestigious "Andrew H. Melczer" Excellence in Volunteerism Award, in 2005.
For more information on the 2015 awardees or on the WEDI-Con conference, please visit http://www.wedi.org.
About WEDI
The Workgroup for Electronic Data Interchange (WEDI) is the leading authority on the use of health IT to improve healthcare information exchange in order to enhance the quality of care, improve efficiency, and reduce costs of our nation's healthcare system. WEDI was formed in 1991 by the Secretary of Health and Human Services (HHS) and was designated in the 1996 HIPAA legislation as an advisor to HHS. WEDI's membership includes a broad coalition of organizations, including: hospitals, providers, health plans, vendors, government agencies, consumers, not-for-profit organizations, and standards development organizations. To learn more, visit http://www.wedi.org and connect with us on Twitter, Facebook and LinkedIn.
###
Press contact information:
Dave Anderson
678-401-2991
dave(at)andersoni(dot)com