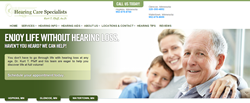 Hopkins, Minnesota (PRWEB) November 09, 2015
Hearing loss has several myths and misconceptions associated with it, perhaps more so than is found with most medical conditions. For instance, people tend to believe that hearing loss only affects the older population, that hearing loss is uncommon, and that hearing aids simply don't work.
These statements couldn't be further from the truth. In an effort to set the record straight, Hearing Care Specialists has published an article titled The Alarming Hearing Loss Statistics You Need to Know About. In the article, Hearing Care Specialists reveals the statistics that demonstrate the inaccuracy of many widespread myths.
In terms of prevalence, people are often surprised to learn that 20 percent of all Americans, or 48 million people, suffer from some form of hearing loss. That's one out of every five people in the US. Additionally, the number of Americans with hearing loss has doubled from the year 2000 to 2015.
Regarding the age distribution of hearing loss, many people think the condition affects only old people. But according to the Better Hearing Institute, more than 30 million Americans under the age of 65 have hearing loss. This includes one in six baby boomers, one in fourteen generation Xers (ages 29-40), and 1.4 million children 18 and younger.
In terms of the causes of hearing loss, people tend to think that it's just a natural part of getting old. Again, this is largely inaccurate. Noise-induced hearing loss is a much larger problem than people realize.
According to the World Health Organization, 1.1 billion teens and young adults worldwide are at risk of developing hearing loss from the use of personal audio devices played at excessive volumes. Additionally, 15 percent of Americans (26 million people) between the ages of 20 and 69 suffer from hearing loss due to exposure to loud sounds at work or during leisure activities.
The final myth dispelled by Hearing Care Specialists is the myth that hearing aids are not effective. Unlike the hearing aids of 10-15 years ago, today's hearing aids have proven to be effective. A recent study in the Journal of the American Medical Association concluded that of the three popular models tested, "each [hearing aid] circuit provided significant benefit in quiet and noisy listening situations."
Patients have also noticed the benefits: The National Center for Biotechnology Information, after reviewing years of research, concluded that "studies have shown that users are quite satisfied with their hearing aids."
Similarly, a recent MarkeTrak consumer satisfaction survey found that, for consumers with hearing aids four years of age or less, 78.6% were satisfied with their hearing aid performance.
Hearing Care Specialists is encouraging those suffering from hearing loss to not let the myths hold them back. While hearing loss is common, it's also highly treatable through the advances of modern technology.
About Hearing Care Specialists
Hearing Care Specialists is a full-service audiology practice located in Minnesota, with locations in Hopkins, Glencoe, and Watertown. The practice offers comprehensive services including hearing tests, hearing aid evaluations, custom hearing aid fittings, hearing aid cleanings, rehabilitative counseling, preventive care advice, and service and repair for most hearing aid models.
Contact:
Kurt T. Pfaff, Au.D.
Hearing Care Specialists
952-679-8700
http://www.hcshearing.com