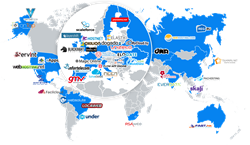 Cloud Union offers the biggest choice of data centers for public and hybrid PaaS around the world. The catalog will help end customers to find the best place for their applications
Palo Alto, Calif (PRWEB) November 10, 2015
Jelastic launched a partner catalog with about forty hosting providers that are offering Jelastic Public PaaS and Virtual Private Cloud for DevOps to their end-customers around the world. This Cloud Union catalog aims to ease the choice of service providers by offering a distinctive comparison of the core options required for hosting.
We learned that the cloud business is not only about software and automation. It's also about the residence of a cloud service provider and the location of a data center, different regulation laws related to personal data, tax issues, latency and network issues, performance of hardware, the quality of support, mentality and language, different kinds of certifications, security concerns and other factors including the expensive cost of cloud resources.
As a result, end customers need to do a deep analysis before they deploy a complex project with a specific cloud service provider. They need some historical metrics of uptime and performance, to filter service providers by location and the security assurances they provide, and of course to find the needed quality of services and support.
To solve these problems, Jelastic has released Cloud Union catalog. It includes all Jelastic hosting partners and specifications about their quality of support and SLA, hardware performance, pricing, the location of data centers and other options that are crucial for the right choice. Using the filters and sorting every customer can find the best cloud provider that meets their requirements.
"With growing regulations, data residency is of increasing importance to customers who need to deliver functionality while complying with local laws. This catalog promises to help customers match their specific business requirements with appropriate cloud service providers while leveraging the Jelastic platform," said Larry Carvalho, Research Manager, Platform as a Service at IDC
Jelastic Cloud Union got a newly launched domain due to the .CLOUD Pioneer program. The term "Cloud" resonates with audiences beyond the world of hosting and is synonymous with sharing, interaction, content, innovation and creativity. This makes a .cloud domain a perfect choice for Jelastic Cloud Union.
"Jelastic partner ecosystem is rapidly growing. The Cloud Union already offers the biggest choice of data centers for public and hybrid PaaS around the world. It becomes a challenge to choose the right cloud service provider. The catalog solves this problem and will help end customers to find the best place for their applications," Ruslan Synytsky, Jelastic CEO
About Jelastic
Jelastic is an enterprise DevOps PaaS for containers deployed on bare metal hardware or any IaaS. It is commercially offered during the last 5 years and already covered about 30 countries. Jelastic customers and partners, such as ISVs, hosting service providers, systems integrators, outsourcing companies, DevOps teams and enterprises, can choose between Public, Private, and Hybrid Cloud options. The platform provides certified containers for Java, PHP, Ruby, Node.js, Python and .NET and the ability to upload custom containers as Dockers. Jelastic offers agile deployment models, flexible automatic scaling for stateless and stateful applications, the maximum application density, disaster recovery, collaboration and access control tools, billing and business analytics tools, while driving down TCO with high density and hardware utilization.
For more information, visit us at http://www.jelastic.com, or follow us on Twitter at http://www.twitter.com/Jelastic, and Like Us on Facebook at http://www.facebook.com/jelastic