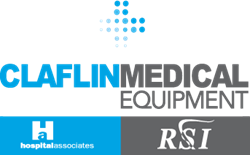 We are honored to be recognized as a valued business partner by NESHMM.
Warwick, RI (PRWEB) November 10, 2015
At the 43rd Annual NESHMM (New England Society for Healthcare Materials Management) Education Session and Dinner on October 27th, 2015, Claflin Medical Equipment and Claflin Company were jointly named Business Partner of the Year. The annual event took place this year at Lombardo's in Randolph, MA.
Claflin was honored to be presented with this prestigious award by Brian Murphy, of Mercy Health, who is the NESHMM president. The Business Partner of the Year award is handed out to only one vendor each year.
Accepting the award on behalf of Claflin Medical Equipment and the Claflin Co. was chairman of the board, Ted Almon. He stated that, "This award is a testament to the impact that everyone in both Claflin companies has had in bringing a unique value and a high service level to our customer base."
K.C. Meleski, National Sales Manager for Claflin Medical Equipment, commented, "Claflin has been a longtime supporter of NESHMM and we have always admired their pursuit of best practices for the materials management profession. We are honored to be recognized as a valued business partner by NESHMM and consider ourselves lucky to be part of such an outstanding organization."
About Claflin Medical Equipment
Claflin Medical Equipment is the country's premier medical distributor focusing on equipment, and all of the associated logistics for outfitting new medical facilities, building expansions, and remodels. They are the largest independent medical equipment distributor with 3 branches and 31 service centers across out the country.
For more information on Claflin Medical Equipment, click here.