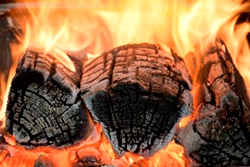 One seller might advertise an 'extra full' pickup load for $150 while another advertises a cord for $200. That's an impossible comparison to make.
Lincoln, Nebraska (PRWEB) November 10, 2015
Consumers buying firewood may find it impossible to price-compare or determine if they got the quantity they purchased if it isn't legally advertised or labeled. It's a common problem during the fall and winter seasons when firewood is in high demand. According to the National Conference on Weights and Measures (NCWM), some sellers are quick to take advantage unsuspecting customers through inadequate advertisements or by delivering less than advertised. Others simply don't know that laws exist.
Firewood must be advertised in terms of a cord or fractions of a cord such as half cord or third cord. A cord is defined as 128 cubic feet (4' x 4' x 8') when the wood is "ranked and well stowed". Packaged firewood must be labeled in terms of cubic feet or metric equivalents. These requirements are established by NCWM through model standards and published in NIST Handbook 130, Uniform Method of Sale Regulation by the National Institute of Standards and Technology . Most states either adopt this regulation or model their state laws to be similar to the handbook so that there is uniformity across the nation.
"One seller might advertise an "extra full' pickup load for $150 while another advertises a cord for $200. That's an impossible comparison to make," said Jerry Buendel, Chairman of the National Conference on Weights and Measures and Washington State Weights and Measures Program Manager. The uniform standards allow consumers to compare price and quantity and also ensure fair competition in the industry.
"The problem we have with firewood is that it often is advertised by the pile, pickup load, face cord, rick, or even wheel barrow," Buendel said. These terms have no legal basis and add confusion to the marketplace. For example a pickup load might be neatly stacked or tossed into the truck and it might be a full-size pickup or a short box. A face-cord is also not standardized and is misleading. It might be one-quarter, one-third, or one-half cord, depending on the length of the wood. "This is why state laws require declarations by the cord or fraction of a cord," he said.
NCWM provides a consumer guide for buying firewood on its website, http://www.ncwm.net. The organization encourages duplication and distribution of the document. Buendel said consumers who understand the standard measure requirement can take steps to protect themselves. "Always ask how many cords or cubic feet are included for the advertised price. Once it's delivered and stacked consumers should measure it to verify the quantity". He said the buyer should also ask for a receipt that shows the seller's name and address, the price and amount of firewood and even the kind of wood. "If you believe you have been shorted on the quantity or misled by the advertisement, contact your state weights and measures authority," he said.
The National Conference on Weights and Measures is a professional nonprofit association of state and local weights and measures officials, federal agencies, manufacturers, retailers and consumers. NCWM has developed national weights and measures standards since 1905. The organization brings the right interests together to keep pace with innovative advancements in the marketplace.