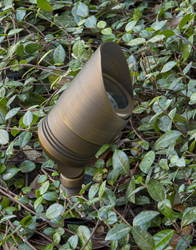 We are especially proud of our All-Star™ Spotlights because they can be used for projects on any budget.
Tampa, Florida (PRWEB) November 10, 2015
VOLT® Lighting announced today the introduction of a new distinctive line of low voltage landscape lights. The company reports that these fixtures, the All-Star™ Spotlight Series, have three main distinguishing features.
1. Specially engineered for use with a new generation of LED bulbs.
2. Durable construction with advanced aiming and glare control.
3. Available in brass and aluminum with a range of affordable price points.
Steve Parrott, VOLT® Communication Director, explains how these new spotlights represent something new in the landscape lighting marketplace,
"For many years, our company has been the leader in the manufacturing and distribution of low voltage spotlights. Our most popular models were designed for use with tungsten halogen bulbs. This is also the case for most spotlights on the market - but the technology has changed. The All-Star™ spotlights are part of the VOLT® response to that change."
Parrott refers to the change from incandescent (including halogen) bulbs to LED bulbs and integrated LED light sources. This change is driven by the imperative for more energy-efficient light sources.
He continues, "Even though the new LED bulbs are built to the same dimensions as the old ones, there are differences. We've been able to reduce the overall size of the fixture and added fins to pull heat away from the LEDs. We also improved the knuckle to give the user precise aiming control and added a glare guard that can be adjusted to prevent the light source from projecting into people's eyes."
Parrott remarks on the company's pricing strategy, "As a factory-direct manufacturer, we were able to set the prices for the new All-Star™ Spotlights surprisingly low – especially for the cast aluminum models. Low prices for landscape lights are not new – consumers see them every day at the big box stores. But to find such a low price for a professional-quality light is remarkable."
Alan Brynjolfsson, VOLT® Lighting president, comments on how product pricing affects the landscape lighting industry. "Our company was founded to make high-quality affordably-priced lights available to professionals and homeowners. We did this by applying uniquely effective and efficient processes in manufacturing, distribution, and customer support. Our model greatly benefits the landscape lighting industry by making professionally designed systems more affordable to a larger market. We are especially proud of our All-Star™ Spotlights because they can be used for projects on any budget."
The introduction of these new spotlights coincides with an expansion of the company's line of LED MR16 bulbs. This is the bulb type used in the All-Star spotlights. The bulbs are available in 28 models that vary in brightness, beam angle, and color temperature. While the selection may seem confusing for a person unfamiliar with the terms, the ecommerce site guides the purchaser to make the best selections. There is also live customer support available 7-days a week.
VOLT® Lighting All-Star™ Spotlights are only available through the company's website: http://www.voltlighting.com.
About VOLT Lighting
VOLT® Lighting is a factory-direct supplier of high-quality, low-cost indoor and outdoor lighting products and systems. For more information call 813-978-3700 or email (customersupport(at)voltlighting(dot)com).