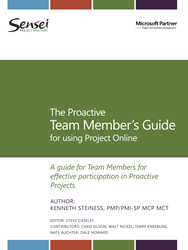 Phoenix, AZ (PRWEB) November 10, 2015
Sensei Project Solutions announced today the release of a new book, "The Proactive Team Member's Guide for using Project Online." The second book by Sensei around Microsoft's PPM Platform, this concise guide aids Team Members in the all-important tasks of providing the weekly status updates, including actual time spent and estimates-to-completion that are vital to maintaining proactive project schedules. It also includes direction on collaborating on project documentation, issues, risks and action items.
"The Proactive Team Member's Guide for using Project Online," which aligns with industry standards from PMI®, can be used as a self-study guide or in conjunction with Sensei's e-learning course "The PPM eCoach™ for Team Members."
"We're very excited to bring this book to market," said Kenneth Steiness, the book's author and CEO of Sensei Project Solutions. "Our experience has shown the vital role that team members play in the successful execution of projects. We believe that this book will prove to be an invaluable resource for team members as they update their project schedules."
About Sensei Project Solutions:
Sensei Project Solutions, Inc., winner of the 2014 Microsoft Project and Portfolio Management (PPM) Partner of the Year, specializes in PPM deployments with Microsoft Project Online, Microsoft Project Server and Microsoft Project. With extensive experience on hundreds of PPM deployments and with thousands of users trained, Sensei Project Solutions brings a process-focused approach and support for industry standards and best practices to all engagements. Sensei is a Registered Education Provider (R.E.P.) with the Project Management Institute (PMI®) and provides Professional Development Units (PDUs) from PMI for all Training courses. As a Gold certified Microsoft Partner, we offer a complete set of services to help an organization make their Microsoft PPM deployment successful, including full implementation and support services, training, e-learning, pre-configured solutions, report packs, and Apps across multiple platforms.