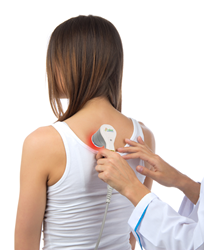 High power laser reduces inflammation and increases tissue healing, results in FAST RELIEF
Copperfield, TX (PRWEB) November 11, 2015
Do you have neck or back pain?
New therapy reduces – or eliminates pain for many
More than 14 million office visits for back pain are reported annually. It's the second most frequent reason that people visit their doctors. The results of these visits are predictable. The options are rest, pain medications, and physical therapy. Chronic sufferers looking for help often hear there are only two real paths… live with the pain or undergo surgery.
According to HealthSource Chiropractic of Copperfield, Aspen Laser Systems offers a new alternative for pain. Aspen Laser Therapy is a non-invasive procedure, which offers not only pain relief but even long-term results for many of the typical causes of back pain. Aspen Laser Therapy uses FDA cleared equipment, manufactured by the world's leading manufacturer of therapeutic lasers. Laser Therapy has a very beneficial effect on nerve cells by blocking pain transmitted by these cells to the brain and decreasing nerve sensitivity. Also, due to less inflammation, there is less edema and less pain. Another pain blocking mechanism involves the production of high levels of pain killing chemicals such as endorphins, enkephalins, and opiods from the brain and adrenal gland.
Dr. Elizabeth Cook states, "This is the newest approach to safely and comfortably treat the actual cause of low back (lumbar) or neck (cervical) pain…without surgery. Back pain sufferers with bulging, herniated discs, sciatica (pain shooting down a person's legs), degenerative disc conditions and more, finally have an alternative to often risky, expensive surgery. There are thousands of these devices around the country, but Aspen Laser Therapy appears to offer the best results and the best long-term benefits".
Dr. Cook continues, "Aspen Laser Therapy, which we offer in our clinic, is an exciting treatment plan, which seems to offer the best long-term results. Combined with core stabilization exercises and therapeutic rehabilitation we're promoting the body's own healing power. Helping our patients get their lives back to where they were before their back and or neck pain is what we strive to do in our practice. Aspen Laser Therapy, along with a proactive approach to the patients' rehabilitation, in my opinion, is the best way to achieve long lasting results."
Many patients report that this therapy has almost immediate results and begin to feel pain relief within a few treatment sessions. Dr. Cook says, "pain is the body's way of telling you something is wrong, and is usually the only indication that you have structural damage in your discs. Pain relief is usually the first sign that things are getting better. However we stress to our patients that pain relief does not mean your discs are healed. We recommend our patients to stay with the prescribed treatment protocol we recommend in order to achieve the best long-term results."
Some of the benefits of Aspen Laser Therapy are:

This is a safe non-surgical procedure, no injections, needles and totally non-invasive
Recovery time, if any, is minimal
Patients can be in a comfortable position during treatments
Patients are always fully clothed and can talk with the doctor during treatments
"We want to get the word out to the greater Houston area that there really is an alternative to surgery and that people really don't have to suffer any longer. For many people Aspen Laser Therapy may be the answer to helping them end their suffering" says Dr. Cook
For more information about Aspen Laser Therapy, contact HealthSource of Copperfield at 281-858-4446 or http://www.myhealthsourcechiro.com