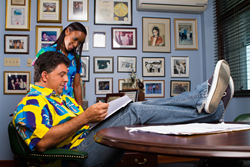 "We should take what has happened as a warning of what could come as we approach the Christmas shopping season including New Year's Day, as these are known periods for high numbers or serious crime,"
(PRWEB) November 19, 2015
As Jamaica continues to grapple with its high murder rate, which has already seen the number of murders increase by 24% in the first 10 months of 2015, with the expectation that it will peak during the Christmas and New Year celebrations, member of the St. Ann Chamber of Commerce Past President Advisory Committee, Joe Issa, has suggested in an interview that online shopping could keep more people at home and save lives this Christmas, urging public libraries and the business community to increase Internet access to the public.
Issa's comments were in response to an October 30, 2015 North Coast Times article titled "Joe Issa suggests online shopping this Christmas" at http://www.northcoasttimesja.com/?p=3366, in which he suggested to residents of the parish of St. Ann to shop online instead of the traditional street shopping as it is far more convenient and saves time and money, especially in view of the rising murders in the parish so far this year.
"In my civic role and corporate responsibility, I felt it was doubly important to suggest to citizens ways and means of ensuring that they get the most out of their hard-earned shopping money and keep safe while doing so.
"But I go further to suggest to the nation that as we grapple with the high murder rate so far this year and the expectation that this situation will worsen during the Christmas and New Year holiday season, online shopping across the country could be a viable means by which lives could be saved and crime reduced, simply because online shopping takes people off the streets where they are more likely to become a victim of criminals; and to urge public libraries, NGOs, government agencies, internet cafes and workplaces to support the idea by making more computers and internet access available to the public and employees," says Issa in an interview.
While recognizing the irreplaceable joyous experience of going out shopping at Christmas time, Issa says today it's a necessary sacrifice as "now, more than ever before, we have to ask ourselves: At what cost?" He adds, "We should take what has happened as a warning of what could come as we approach the Christmas shopping season including New Year's Day, as these are known periods for high numbers or serious crime," noting that "there is no better way to avoid becoming a crime statistic in Jamaica than by staying off the streets as much as possible, and shopping online could achieve this."
It's not the first time that Issa is calling on citizens of St. Ann to stay alert during a major shopping holiday season, but this year's call is his first to the nation as the entire country is at risk, as reported in an October 26, 2015 article in the Jamaica Observer titled, "Police: 24% jump in murders since start of year", at http://www.jamaicaobserver.com/latestnews/Police--24--jump-in-murders-since-start-of-year. It said that 1,016 people have been murdered between January 1 and October 24 this year, representing an increase of 24 per cent on the 822 who were cut down over the same period in 2014.
Even with shooting falling by one per cent to 898 cases, rape by 20 per cent to 460 and aggravated assault by 16 per cent to 490 this year, Issa says in the interview, "With the huge increase in murders, it's of little comfort that serious crime fell by one per cent; the fact is that all the categories of crime are already too high," suggesting that "online shopping, as a means of reducing shoppers' presence and exposure of their belongings on the streets, especially in this upcoming busy Christmas, could reduce serious crime."
While a reduction in crime can be achieved this Christmas with the current level of accessibility of the internet at homes, internet cafes, public libraries and other free internet centers, Issa posits that online shopping could have a much greater impact on crime reduction, if access is increased, especially to employees by their employers.
"Sooner than later people will develop the culture of shopping online, which will create its own demand and establish it as the major factor in the reduction of serious crime in Jamaica," Issa says in the interview, adding, "What we need is for everyone to come on board, including the private sector, government and non-government agencies in bringing broadband access to all communities."
There is evidence that island wide access to the internet could come sooner rather than later, according to a November 6, 2015 JIS article on the website of Jamaica's Ministry of Science, Technology, Energy and Mining titled, "Country's 235th Computer Access Point Opens in Mandeville" at http://mstem.gov.jm/?q=country%E2%80%99s-235th-computer-access-point-opens-mandeville, which featured the Minister responsible, Phillip Paulwell at the opening of a 15-seat facility outfitted with 14 state-of-the-art computers, free Wi-Fi service, two printers, a server and air-conditioning units, to benefit students and the wider community in the parish.
In welcoming the opening of the 235th centre established on the island so far, Paulwell noted that there is island-wide demand for an additional 600 such facilities, which will "…ensure that persons from the wider community can come in and have access…to technology that is transforming our lives." It was stated that the ultimate objective of the Government's technology expansion programme "is that every home and every street corner should have Internet access."
The Jamaica Library Service (JLS), which has computers in all of its public libraries and schools continues to try in the face of falling membership to 499,597 in 2014, from 525,264 in 2013 and 548,899 in 2012. The data also shows circulation of materials falling since 2012, as well as computer usage, which picked up slightly in 2014. This is informed in a December 29, 2014 article in PRWeb titled "Declining Resources, Underperformance, Time Against Jamaica Library Service Realizing Vision by 2016 – Joe Issa" at http://www.prweb.com/releases/2014/11/prweb12357470.htm.
It also pointed to a JLS initiative launched on November 8, 2014 titled "JLS: Using Technology to Empower Individuals and Communities for Development", which will, among other things, attract new members to the library through the use of technology. The Bill and Melinda Gates Foundation is said to have contributed some US$2 million in computers towards the project.
"With all of these initiatives in place and others in the pipeline, as well as the expected response by companies in setting up free internet cafes for their workers, the broadband infrastructure could soon be in place to support an island-wide adoption of online shopping as an alternative to street shopping, particularly during the busy holiday seasons.
"We should be encouraged to adopt online shopping as part of our sustained crime fighting strategies…if we push it for what it's worth, over time people will respond by embedding the practice and staying off the streets, thus limiting the number of targets for the criminals," Issa says.