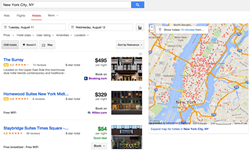 Hotel owners can easily verify compliance among their OTAs.
Orlando, FL (PRWEB) November 10, 2015
The Search Monitor, the leader in precision ad intelligence for marketers and affiliate managers, today enhanced its ad intelligence platform to let hotel owners and online travel agencies (OTAs) monitor online hotel listings for compliance and competitive insights.
Hotel advertisers can receive insights on Google's hotel listings module globally. Ad insights include hotel room rates, listing copy, share-of-voice, and average rank. The data can be filtered for specific geo-targeted keywords, (e.g., Miami hotels), brands, locations, and even star ratings (e.g., only 3-star properties).
A key feature of the new service is comparing prices for the same property across different sellers' websites.
The Search Monitor's CEO, Lori Weiman, elaborated on the benefits: "Hotel advertisers have asked us for greater transparency into how properties are listed, when there is price parity between operators and OTAs, and where the opportunities are to gain market share in hotel ads. Not only do we detect this, but it can be delivered automatically to your inbox."
The Search Monitor encourages hotel advertisers to contact The Search Monitor and request a demo for their hotel property, competitor, or any OTA.
About The Search Monitor
The Search Monitor captures advertising activity on paid search, organic search, social media, mobile search, and shopping engines worldwide for brand and affiliate compliance, and competitive intelligence. Interactive agencies, search marketers, and affiliate marketers use The Search Monitor to gather and analyze competitive information more effectively. To learn more, please visit http://www.thesearchmonitor.com.