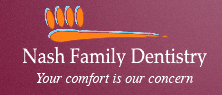 Vicksburg, MS (PRWEB) November 10, 2015
Kenneth Nash, DDS, is pleased to announce openings for patients who want straight teeth in Vicksburg, MS. Without waiting for a referral, individuals can receive an evaluation to determine if they are candidates for this treatment method. Adults who qualify no longer have to undergo the lengthy, uncomfortable process of wearing metal brackets and wires. Instead, they can now opt for the benefits of removable, invisible braces.
Although many adults are self-conscious about exposing their teeth, protruding braces may be just as embarrassing. There is now a subtle method of obtaining straight teeth in Vicksburg, MS. The ClearCorrect™ system uses thin plastic aligners, rather than metal brackets and wires, to eliminate the awkward stages associated with traditional braces. These aligners can be removed for meals, as well as brushing and flossing, unlike metal brackets and wires, which may create difficulties with oral hygiene, while also limiting food choices. This method of treatment may also prevent the discoloration that often occurs around brackets.
Before the recommendation for ClearCorrect™ orthodontic devices occur, the dentist thoroughly assesses a patient's dental condition. Extremely precise, three-dimensional digital images of the teeth will be captured, for those who are deemed suitable candidates for invisible braces. All aligners are made by the ClearCorrect™ company, based out of Texas, designed specifically to create gentle pressure. As the teeth are moved accordingly into place, new aligners are created approximately every three weeks, to continue the process. Dental appointments, for those who wear clear braces, occur as frequently as appointments for traditional brackets and wires.
The ClearCorrect™ method, results in straight teeth in Vicksburg, MS. This method of treatment also corrects spaces, crowding, and improper bites. By wearing the aligners approximately 22 hours a day, for the duration of the treatment, adults can achieve a beautiful smile. Those who are interested in invisible braces can schedule an appointment with Dr. Nash, without the requirement of a referral. Some teenagers and older adults may also be ideal candidates for this method of treatment.
About the Doctor:
Nash Family Dentistry is a general practice offering personalized dental care for patients in Vicksburg, MS. Dr. Kenneth Nash and his team provide patients with the latest in dental technology in a comfortable and welcoming environment. Dr. Nash offers a variety of services including laser dentistry, dental implants, and cosmetic dentistry services, among others. To learn more about the services offered at Nash Family Dentistry, please visit the website at http://www.vicksburgdentist.com or call (601) 634-1812 to schedule an appointment.