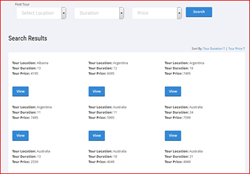 (PRWEB) November 16, 2015
InfoFilter LLC's ListOfTours.com website conducts a price comparison between group tour prices and offers targeted information on the location and duration of the tours. The website enables travelers to travel with their friends, families, or others. The user will be able to find the group tour that meets their needs based on price, location and duration. They will then be able to share the information with their friends and families.
A large number of travel agencies offer group tour deals. However, none of them offers price comparisons and the option to share and invite friends and colleagues. ListOfTours.com offers reasonable travel opportunities for people who have found it difficult to afford a group tour deal. The site offers a wide range of group tour deals at very affordable prices.
It is now possible to find the tour that meets all of the customer's budget requirements. For travel to the United States, the user selects United States on the search engine. A search results page will be displayed that provides a price comparison of all group tours to the United States. It is also possible to download the ListOfTours.com app from the website.
How does it work? Customers can search for their group tour deal by using the ListOfTours.com search engine. This information can then be shared with whoever they chose to travel with. Tour operators and travel agencies can post their group tour deals on ListOfTours.com so that customers will see their tour deals in the price comparison page. A unique and easy to use market place has been created. It allows tour operators and travel agencies to sell their group tours to a targeted audience of users who are seeking the best group tour value. It also allows users to find the best price for a group tour deal. ListOfTours.com also serves users from the UK, Canada, Australia and New Zealand.
The first step is to compare what tour operators and travel agencies have to offer. This information is then provided to the consumers so that they can decide what tour is best suited for them. Tour operators and travel agencies representatives post their tour deals to a targeted group of travelers who prefer to travel in small groups. ListOfTours.Com is the first and only website to create that marketplace. With the competition from travel agencies, the user will find the most attractive and affordable deal. ListOfTours.com was founded for travelers who want to experience the outdoors and to get away from technology. It allows them to enjoy what America and the world have to offer. It seems that the world has become smaller due to technology. In reality, the world is huge and each country has a lot to offer to tourists.
Press Contact
Victor Bratslaver
Victorbratslaver(at)listoftours(dot)com