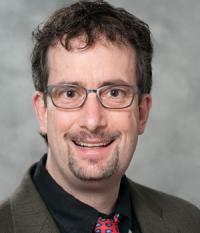 His research has been at the forefront of the field of personalized medicine and the impact of his research can not be overstated
KANSAS CITY, MO (PRWEB) November 09, 2015
John A. Spertus, M.D., M.P.H., clinical director of outcomes research at Saint Luke's Mid America Heart Institute, is being honored Tuesday, Nov. 10, with the American Heart Association's Quality of Care and Outcomes Research (QCOR) Outstanding Lifetime Achievement Award. The honor, presented at the Quality of Care and Outcomes Research Council Dinner at American Heart Association's 2015 Scientific Sessions in Orlando, Fla., is awarded to researchers who have made extraordinary contributions to outcomes research and the improvement of cardiovascular care.
Dr. Spertus, who has published more than 600 peer-reviewed articles, also developed the Seattle Angina Questionnaire (SAQ) and the Kansas City Cardiomyopathy Questionnaire (KCCQ). These tools have been translated into more than 50 languages and are considered by many cardiology research experts to be the gold standards for measuring patients' symptoms, function, and quality of life in coronary artery disease and heart failure.
Dr. Spertus' research focuses on methods for assessing patients' health care results, measuring health care quality, and using information technology to guide medical decision-making based on models that predict risk. The aim of the research is to help make treatment safer, more cost-effective, evidence-based, and patient-centered.
"The quest for improving patient care and outcomes has been John's lifework," said Melinda L. Estes, M.D., president and CEO of Saint Luke's Health System. "His research has been at the forefront of the field of personalized medicine and the impact of his research can not be overstated. This recognition by the American Heart Association is a tremendous honor and a testament to the pivotal role he has played in changing the face of medicine. Saint Luke's Health System and Saint Luke's Mid America Heart Institute are both extremely proud to have John leading our outcomes research team and congratulate him on this well-deserved honor."
In addition to his role as clinical director of outcomes research at Saint Luke's Mid America Heart Institute, Dr. Spertus also serves as the Daniel Lauer/Missouri Endowed Chair and tenured professor of medicine at the University of Missouri–Kansas City.
Dr. Spertus has served on numerous national committees for American Heart Association, American College of Cardiology, American Medical Association, National Quality Forum, Medicare, and UnitedHealthcare. He supports his research with non-school funding and employs more than 18 people. He founded the Cardiovascular Outcomes Research Consortium and CV Outcomes, a nonprofit corporation dedicated to advancing health care quality and outcomes research in cardiovascular disease, as well as Health Outcomes Sciences, a biotechnology start-up to support the implementation of evidence-based medicine.
A graduate of the University of California, San Francisco School of Medicine, Dr. Spertus completed his internal medicine, cardiology, and health services training at the University of Washington.
"John is one of the most creative and inspirational figures in the field of cardiovascular outcomes research," said QCOR Chair Benjamin Nallamothu, M.D., M.P.H., associate professor of internal medicine at the University of Michigan in Ann Arbor, Mich. "He's a giant in our field—a leader who played an instrumental role in establishing the QCOR conference and council."
Dr. Nallamothu commends Dr. Spertus for playing a pivotal role in including the patient voice in health care decision-making and personalized medicine.
"He's a close mentor to so many of us, dedicating so much of his own personal time, energy, and resources to cultivating young talent in cardiovascular outcomes research," said Dr. Nallamothu. "I couldn't be more excited about his selection and this well-deserved recognition."
The QCOR Outstanding Lifetime Achievement Award has recognized exceptional researchers every year since 2005.
Saint Luke's Mid America Heart Institute
Saint Luke's Mid America Heart Institute, a member of Saint Luke's Health System and a teaching affiliate of the University of Missouri-Kansas City, is one of the preeminent cardiovascular programs in the country. Its legacy of innovation began more than 34 years ago when it opened as the nation's first heart hospital. Since then, the Heart Institute has earned a world-wide reputation for excellence in the treatment of heart disease, including interventional cardiology, cardiovascular surgery, imaging, heart failure, transplant, heart disease prevention, women's heart disease, electrophysiology, outcomes research, and health economics. With more than 50 full-time board-certified cardiovascular specialists on staff, the Heart Institute offers one of the largest heart failure/heart transplant programs in the country, has the largest experience with transcatheter aortic valve replacement in the Midwest, and is a global teaching site for the newest approaches to opening challenging blocked arteries using minimally invasive techniques.
American Heart Association
The American Heart Association/American Stroke Association receives funding mostly from individuals. Foundations and corporations donate as well, and fund specific programs and events. Strict policies are enforced to prevent these relationships from influencing the association's science content. Financial information for the American Heart Association, including a list of contributions from pharmaceutical companies and device manufacturers, is available at http://www.heart.org/corporatefunding.