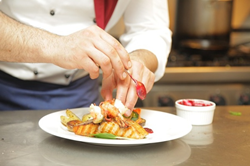 Allenhurst, New Jersey (PRWEB) November 09, 2015
For the first time in eight years, the state's Ultimate Chef Competition is open to all New Jersey chefs. The culinary tournament, which has been restricted to Bergen County cooks is expanding its pool to include any Garden State chefs who wish to compete. The event will be held at Chef Central in Paramus, New Jersey in January 2016.
According to NorthJersey.com, the contest will be judged by food industry professionals, writers and previous winners. The chef who makes it to the end will go head-to-head against last year's champion. Admission is free beginning on January 9th, 2016.
For more information, visit http://www.northjersey.com/food-and-dining-news/food-news/ultimate-chef-competition-is-now-open-to-all-nj-chefs-1.1442550.
About Bielat Santore & Company
Bielat Santore & Company is an established commercial real estate firm. The company's expertise lies chiefly within the restaurant and hospitality industry, specializing in the sale of restaurants and other food and beverage real estate businesses. Since 1978, the principals of Bielat Santore & Company, Barry Bielat and Richard Santore, have sold more restaurants and similar type properties in New Jersey than any other real estate company. Furthermore, the firm has secured in excess of $500,000,000 in financing to facilitate these transactions. Visit the company's website, http://www.123bsc.com for the latest in new listings, property searches, available land, market data, financing trends, RSS feeds, press releases and more.