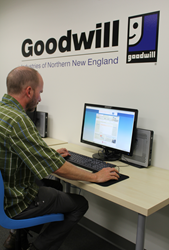 PORTLAND, Maine (PRWEB) November 10, 2015
Goodwill Industries of Northern New England announces the relocation of its Portland Workforce Services Offices, which include the Workforce Solutions One-Stop Center, AmeriCorps, and its newest workforce program Job Connection to 190 Lancaster Street. Conveniently located on the peninsula, the public can access a full range of free support with their job search.
On Tuesday, November 10th at 10 am, members of the media will be able to tour the location and hear from Anna Eleanor Roosevelt, CEO of Goodwill Industries of Northern New England about Job Connection. Job Connection is an intensive, personalized approach that serves individuals who want to work, but face life challenges that impede their ability to do so. Clients are referred through Portland Housing Authority, New Ventures Maine and Goodwill. Early funders for Job Connection include Goodwill retail stores, United Way of Greater Portland and KeyBank of Maine Foundation.
Sterling Kozlowski, Maine District President of KeyBank and Liz Cotter Schlax, CEO of United Way of Greater Portland will also have brief remarks.
"KeyBank's early investment in our Job Connection approach has been instrumental in helping people build stability in their lives," said Roosevelt. "Goodwill is honored to have the support of a financial partner that believes in the dignity of work and power of strong communities like we do."
In 2014, Goodwill Workforce Services helped nearly 32,000 people with in its territory of Maine, New Hampshire and northern Vermont with career services and job search assistance.
About Goodwill Industries of Northern New England
Goodwill Industries of Northern New England has a 10-year goal of helping to move 10,000 households into stability in our territory of Maine, New Hampshire and northern Vermont.
We not only create training opportunities and jobs within Goodwill, our Workforce Services helps local businesses build their own workforce.
As an employer of nearly 2,000 people and a social service provider, we have a unique perspective that can help other employers find and keep reliable employees. We operate 30 retail stores across northern New England that help fund our mission.
Goodwill Neurorehabilitation Services in Portland, Maine and Lewiston, Maine offers comprehensive brain injury services and treatment options for people with acquired brain injuries. At Goodwill Neurorehabilitation Services, comprehensive, community-based therapies are provided to assist individuals with cognitive, emotional and physical needs – so lives can get back on track after a brain injury.
Goodwill NNE also operates Good Clean Property Services – a full service commercial property maintenance company offering the perfect combination of quality, customized, eco-friendly services.
Recycled Cycles, a Goodwill NNE service in New Hampshire, is a partnership with the Central New Hampshire Bicycling Coalition to create job training opportunities repairing and maintaining bicycles. Program participants also benefit through individualized training and mentoring. Recycled Cycles is focused on increasing community awareness about the health, environmental and cost benefits to transportational cycling.
Our services are funded by revenue from retail and recycling operations, grants, fees, and philanthropic gifts. Please visit http://www.goodwillnne.org for more information.
About KeyCorp
KeyCorp traces its roots back more than 180 years ago and is headquartered in Cleveland, Ohio. One of the nation's largest bank-based financial services companies, Key has assets of approximately $91.8 billion. The New England Market stretches from Madawaska, Maine, to Brattleboro, Vt., and has 74 branches, 121 ATMs and approximately 530 employees.
Key provides deposit, lending, cash management and investment services to individuals, small and medium sized businesses in 12 states under the name of KeyBank N.A. Key also provides a broad range of sophisticated corporate and investment banking products, such as merger and acquisition advice, public and private debt and equity, syndications and derivatives to middle market companies in selected industries throughout the United States under the KeyBanc Capital Markets trade name.
For more information, visit https://www.key.com/. KeyBank is Member FDIC.